Many in the sporting world had called it  "A huge gathering of talent !" some had said "The cream of European golf !" others, possibly more knowledgeable, had pointed and shouted, "Look at all those old blokes !" .
Yes, this was the inaugural Super Bock Handicap Steaks played over two days in the heat of Portugal at Vila Sol and Silves Golf Clubs.
The anticipation was without precedent, some of the players had not slept for 2 or 3 days, although this was actually because they could not find their way home.
Some said "They will never pull this off !" , but they were mistaken.
The sun shone as the 12 contestants walked out onto the first tee at Vila Sol.
After the first round Nigel Carby was way out in front with a record 37 points, 9 points ahead of Big K Shorrocks , with the rest of the field at least 10 shots off the pace.
Mighty Max McDonough was so far off the pace that he could have been in a different competition but he rallied on day 2 beating the day 1 winner by 2 shots.
On the second and final round at Silves, Ryan Kowal and his caddie, twin brother Liam, alongside Lord Chilly, smashed in 36 points each, giving Ryan victory on count back with a 20 point back 9.
"Its all down to my caddie, Liam was great with tactics and Polo mints as well. I was slightly disappointed with my driving, averaging only 320 yards, so I will be working on that." said Ryan as he grasped the new trophy.
Lord Chilly of Uzerlam was magnanimous in second place: "Bloody yoof ! "
Both sponsors, SEVEBET and Shorrocks Industries were very please with the first Super Bock Steaks:
" We have enjoyed this great event and look forward to the next one, possibly in Bridlington later in the year." said Big K of Shorrocks Industries.
"Don't touch my bags you or you will be in big trouble ! " said MK Seve of SEVEBET although this may have be out of context ?.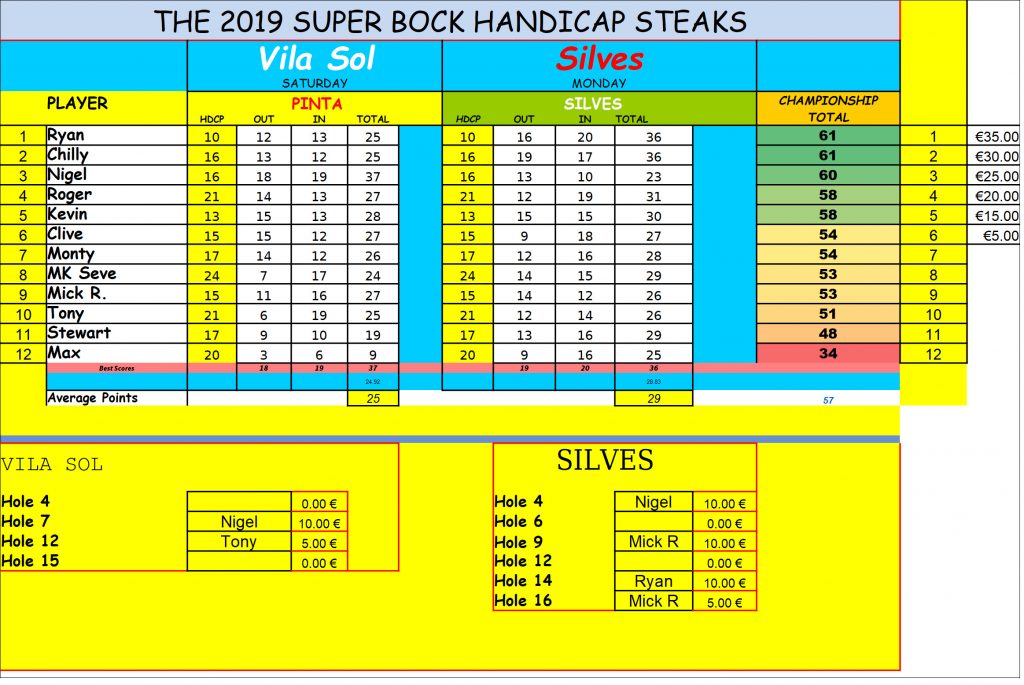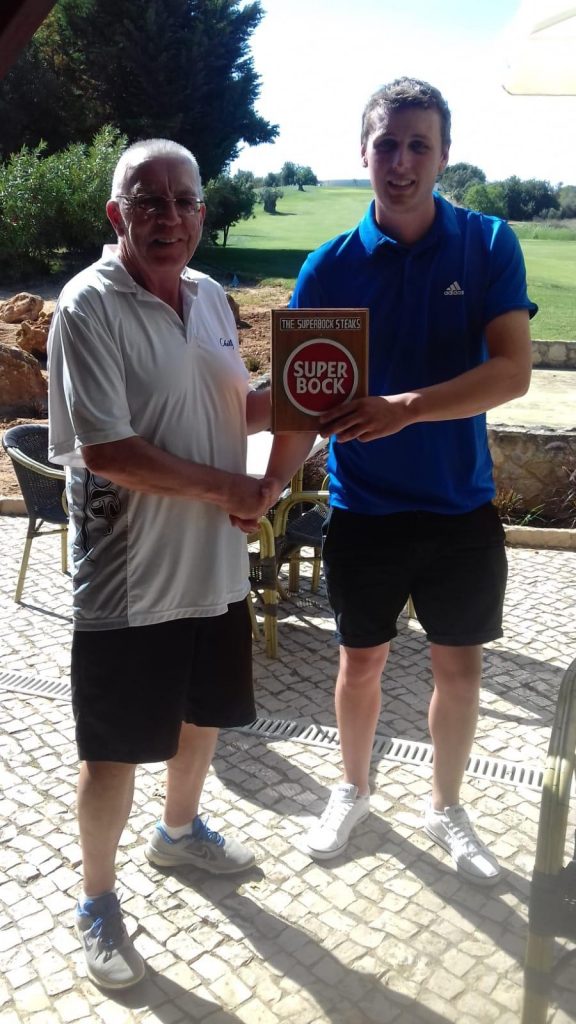 Ryan Kowal and twin brother Liam Lord Chilly of Uzerlam presenting the Super Bock Steaks Trophy 2019.