2019 what a great year, a year of contradictions (No It wasn't !).
Kevin Shorrocks, Super Bock Steaks sponsor and CEO of Shorrock Industries, once again hits the top cash spot.
Sir Michael King, back into 2nd place, and the mighty Mick R falls to 3rd , out of the top two for the first time in 3 years.
Hoppy Dearsley claws his way back into 4th spot with a big win on the last day of the season and Monty Monty, so good they named him twice, makes it into the top 5 for the first time with 2 big last minute wins.
Sir Roger Large slips out of the top ten for the first time and newcomers Aldo Rodi , George and Kev D move into the top ten, bloody rookies !
Yet the biggest surprise of the year is Max's storming finish in 11th place with only 16 appearances:
"I have spent more time in 2019 giving Dearsley bloody money than I would like to admit.

I have seen my Doctor about it and he says many people suffer from this particular ailment.

But knowing that does not help !"  Says Max from his Seychelles apartment.
The full final money table is below: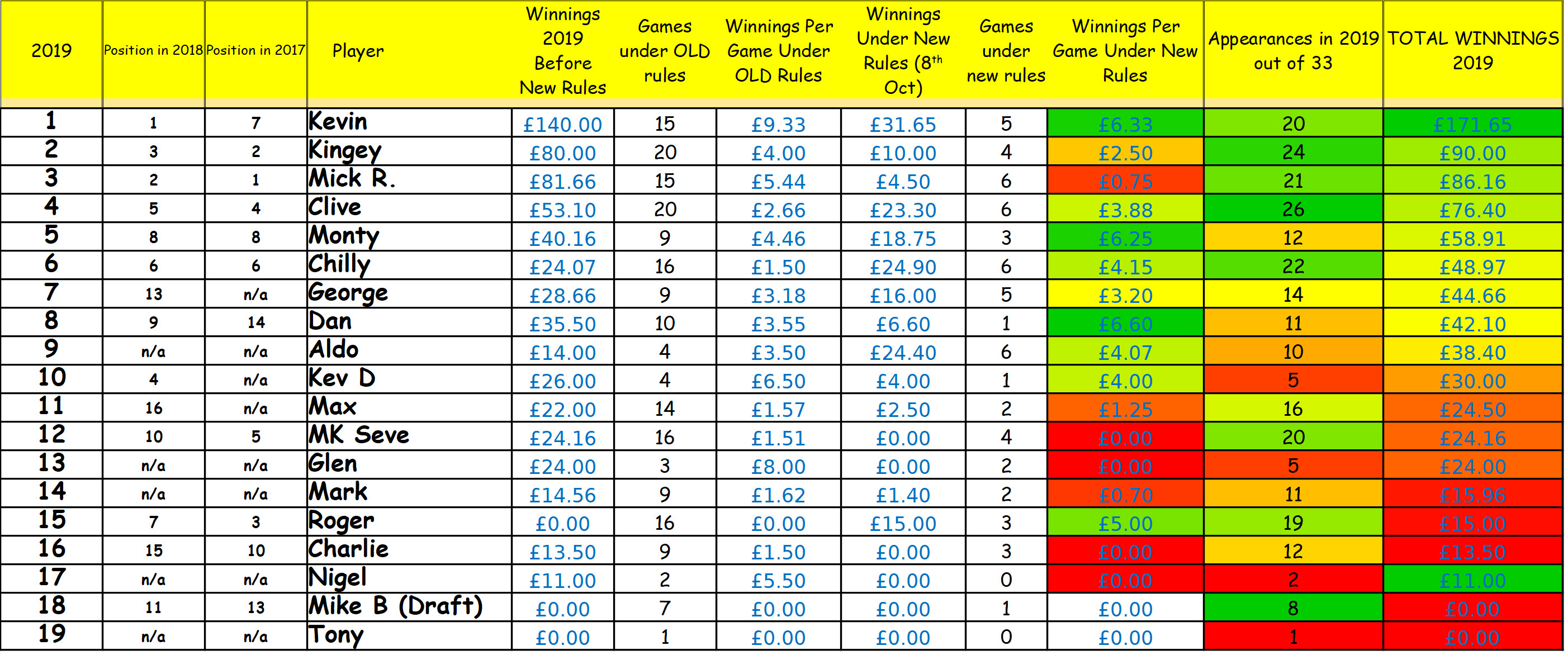 The Majors in 2019 were in many ways a repeat of 2018, not that anyone can remember that far back.
The Chronological results are set out below:
April 19.

The Bournemouth Peter Crowhurst Celebration was won in a surprising early show of form by Clive (Hoppy) Dearsley, three time winner of this magnificent Trophy.
May 19

. The Portugal Tour Biggos Composto was, for the second year running, won by everyone's favourite Billionaire MK Seve, who also topped the Money list for this years tour.
But the well known Lifestyle and Golfing Guru Uncle Nigel Carby stays top of the "Race to Villamoura" Money list hitting over 1,000 dollar, for the first time.  Well done Nigel !
The 2019 Portuguese Peter Crowhurst Celebration Trophy was secured by Lord Chilly of Uzerlam which is two years on the bounce for the popular old gent !
And not forgetting the inaugural Super Bock Handicap Steaks won in magnificent style by the Kowal twins (no relation)  Ryan and  Liam .
July 19

. Big K, the Shorroks Industries CEO, Kevin Shorrocks held onto the Summer Peter Crowhurst Celebration Trophy for the second year running. No surprise there then !
Sept 19.

The Bridlington Admiral's Cup was held high by Kevin Shorrocks, could be a pattern forming here, with Tony Bryan runner up by a single point !
And finally The Autumn Peter Crowhurst Celebration Trophy was finally won by Sir Michael King who has been trying to get his hands on it for many years.
And there it is another stunningly good years glof.
Full details of the 2020 season will be published right here !
And a Happy and Prosperous New Year to One and All !!