It has been in the planning stage since lock down enforced the abandonment of this years Portugal Tour and now SEVE BET have announced that the 6 round tournament will take place in June, July and August in the UK.
The first round to be played will be at Kibworth Golf Club on Tuesday 30th June 2020.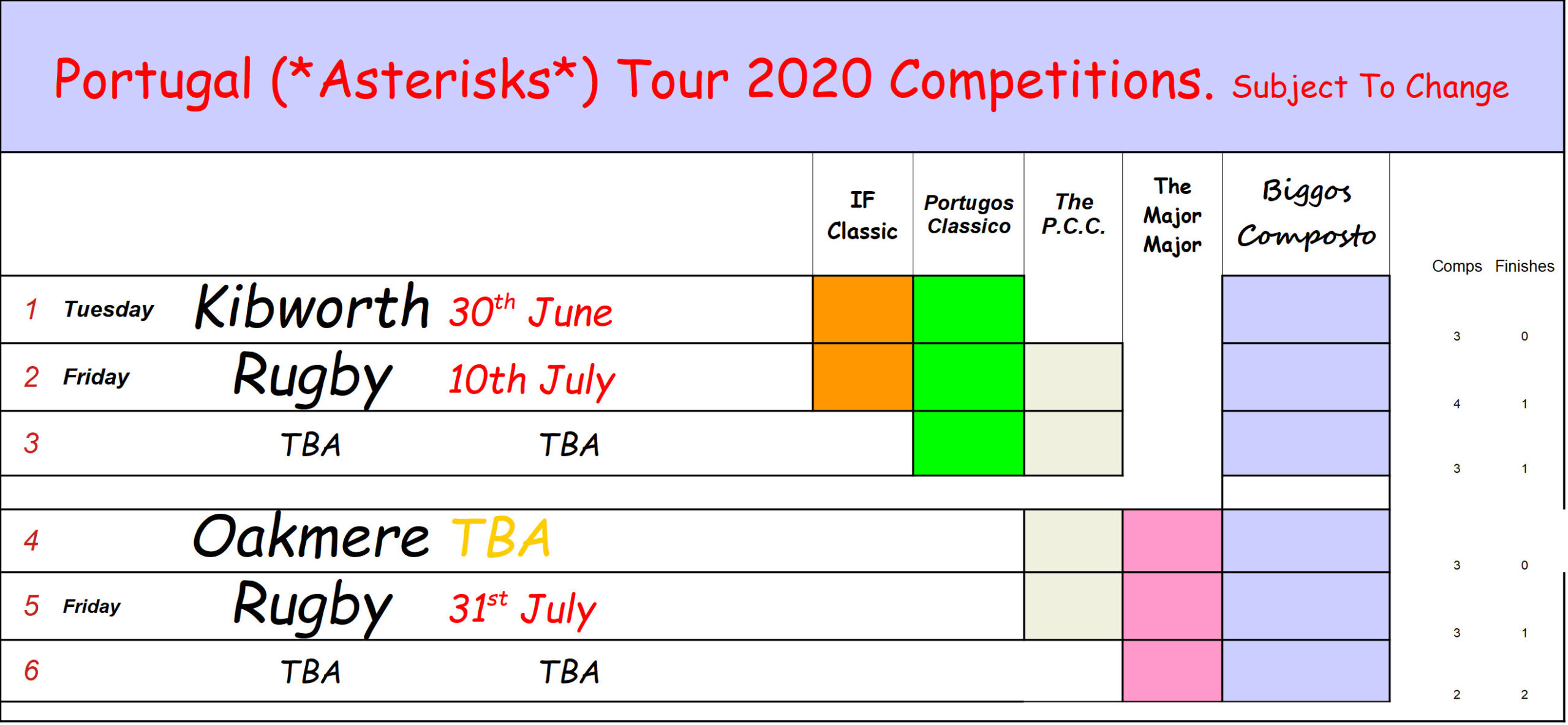 "My team have been on this case like rats up a drain pipe, if you can excuse my metaphor. "  says MK Seve , CEO of tour sponsor SEVE BET.

"It's complex, well most stuff is when Dearsley's involved, but I am now convinced that the 6 rounds can be played in a safe and socially distanced manner."

"Sadly I can also announce that Sir Micheal King has withdrawn from the tournament due to contractual commitments, he will be sorely missed but Mick Rushall has agreed to moan a lot and be disgruntled to make up for Mike's absence."
So far only 3 dates have been confirmed but we are told that the final 3 are soon to be announced.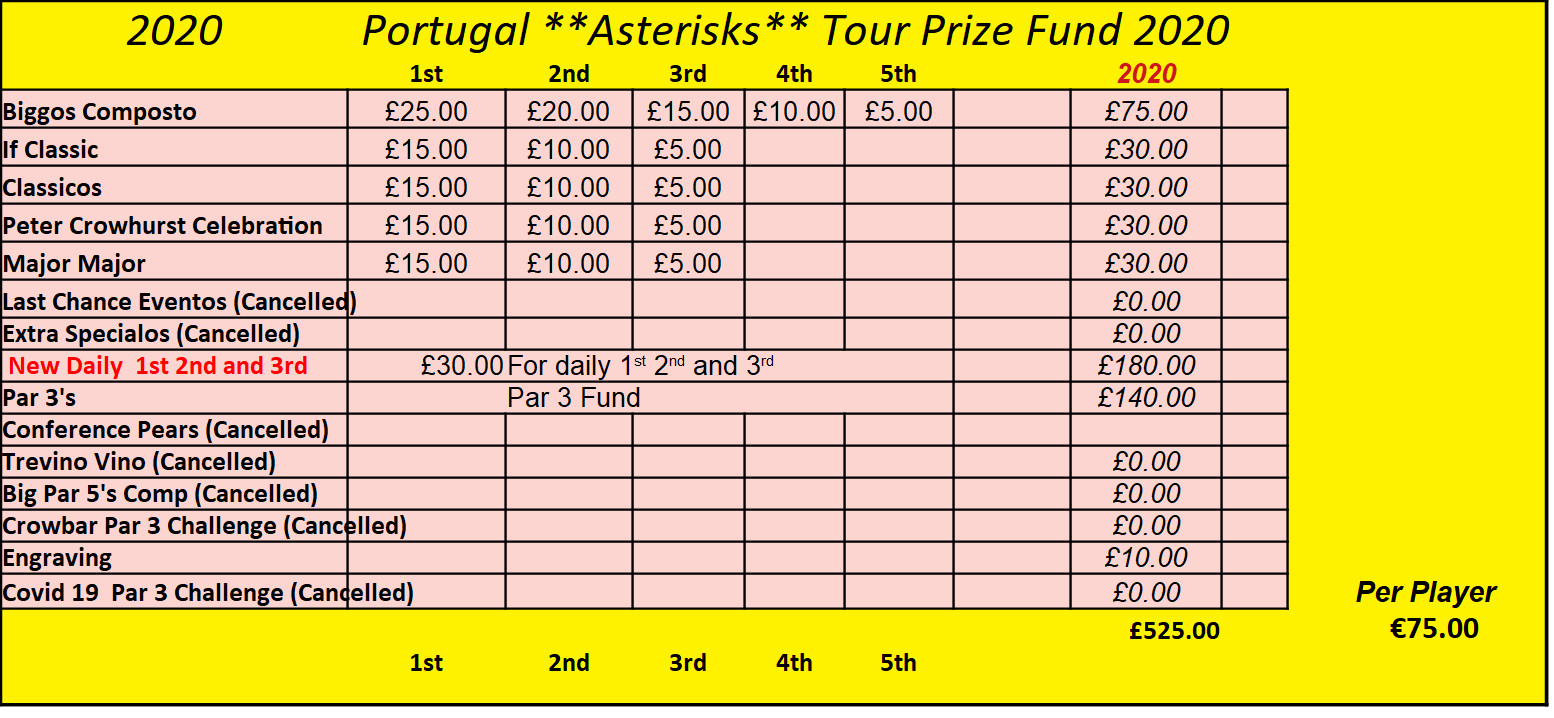 PORTUGAL **Asterisk** Tour HANDICAP RULES 2020.
The Full 2020 Portugal Handicap Rules. Version ~ 1.3
1. Maximum Handicap 28.
2. Buffer zone 30 – 36 inclusive – a score in the buffer zone no change except see rule 5.
3. A score of more than 36 points will result in a reduction of 0.6 shots per point scored over 36.
(Example 38 points will see a reduction of 1.2 shots (2 * 0.6)
4. A score of LESS than 30 points (i.e 29 and below) will result in an increased handicap of 0.2 for every point less than 30. UNLESS the player is 1st 2nd or 3rd see rule 5.
(Example 26 points would see an increase of 0.8 (4 points * 0.2)
5. If a player is 1st 2nd or 3rd or equal 1st 2nd or 3rd (i.e wins some money) the Players handicap is reduced by 1 shot – UNLESS the player has scored less than 30 points then no change in handicap.
(Example: If a player scores 27 points and is in 3rd place then NO CHANGE in handicap.
Note: At the same time  if another Player has scored 26 points but has not come 1st 2nd or 3rd then that Players handicap will increase by 0.8 (4 points * 0.2)
6. As the competition is being played over a prolonged period a Players handicap will not change in the competition unless by the above rules.
For clarity if a players club handicaps is changed during the competition it will not affect his playing handicap in the tournament.
eeerrr……….. thats it.

The above Tee times will be confirmed on Monday.
This round will incorporate the regular Tuesday Golf so players will mark 2 cards.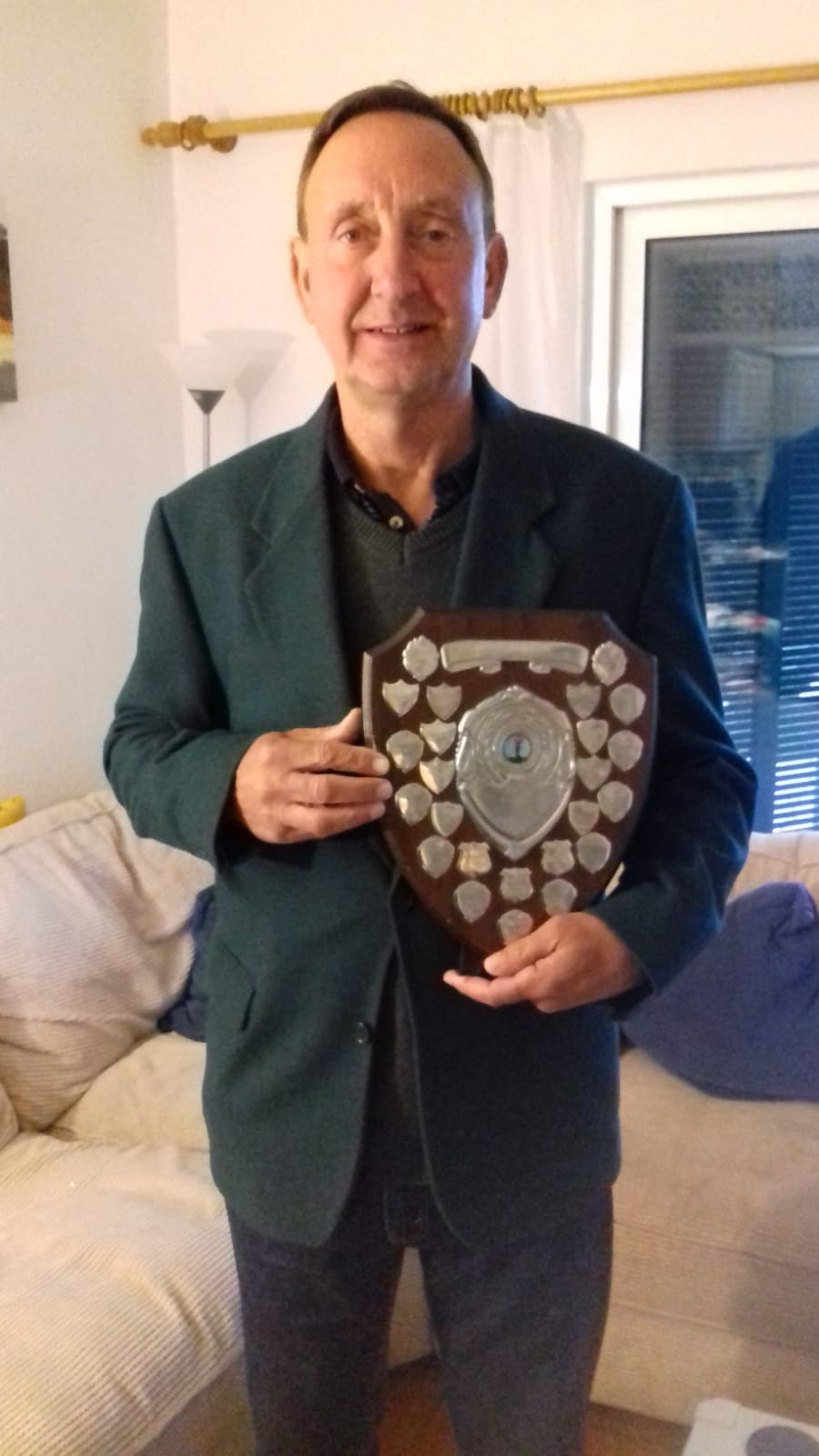 MK Seve current Champion who has held this title for 2 years.
"It is a great honour to defend this title again in 2020. To play the golf on the hallowed UK soil is a pleasure and I wish all the other competitors the best of luck !"

Where do I get my appearance money from ?"