The sun had shone, a bit, but with a chilly wind the VOM's 2022 was off at last after a 2 year gap due to 
pure laziness

Covid 19.
Even then the dreaded Covid would strike back as Allan Boothroyd went down with the bug just hours before the first tee.
"I was gutted" said Allan from his Windsor mansion. "My vigorous training regime which I have religiously followed for the last 2 years has now brought me to peak form and now bloody Covid.

But no worries , the 23 mile runs , ice baths and strict , non alcohol, diet regime has been nothing but pure joy and I will be sticking with it for the next 12 months. 2023 ! bring it on !!" Allan added as his Psychiatrist and spiritual guides led him away.
Bob Dearsley. Franchise owner, missed the opening round but much to the delight of the VOM's dedicated fans , he arrived just in time to challenge for the Peter Crowhurst Celebration trophy, which he won last year at the **Asterisks** event.
The opening round at Crane Valley was marred by ugly scenes on the first tee , but after Tony Dearsley had  finally hit his opening shot things calmed down, a little.
Clive Dearsley, rookie Jack Dearsley and someone called Keeping piled into 1st 2nd and 3rd leading the tournament with 32, 32 and 30 points respectively after the opening 18 holes.
The next morning, Saturday, offered a full english and sunshine and a tricky slog around Meryck Park.
Ogilvy discovered which end of his driver was best to hit the bally thing with and shot 35 points just ahead of Bob and Pete on 34.
This gave Peter K (The Freak) victory in the inaugural Don Quixote Spaniard's Challenge  and set up an exciting last day at Dudsbury with just 3 points between Clive, Pete and Doug for the Championship and only one point separating Dougie, Bob and Pete for the Crowhurst Cup.
The excitement was overwhelming. Some of the players decided to eat fish and chips , drink wine and watch the golf all night , just to stay calm. Joe Dearsley managed to walk to a local Pub in an attempt to find his last years form, but they had sold out.
Meanwhile there was some talk of a Dearsley cull to reduce the chances of a Dearsley winning all the prizes but this idea was quashed, not surprisingly, when a vote was taken.
The final day's breakfast at Dudsbury was a nourishing and eaten heartily by all the Players. As the crowds gathered on the first Tee at least 2 Dearsley's were missing.
Following a  brief search the full compliment of Dearsley's was restored and play commenced.
Windy, chilly but dry and sunny made the going perfect for 18 long holes of Championship golf.
The lakes, tricky rough and a near complete lack of talent in the competitors added to the afternoon's excitement.
Languishing in 5th place as the final round commenced was 2019's Champion, the well known Fashionista, Mr Ian Waterhouse. Ian had been struggling with some vicious trees and aggressive bushes during the first 2 days but as the Dudsbury front 9 fell at his feet Waterhouse totted up 24 points !
The crowd were on their feet,. could he pull it off ?  eeerrr….No !
A Waterhouse back 9 of 21 giving him a magnificent 45 points was not enough to pip Clive (Hoppy) Dearsley who took 1st and Dougie Ogivily 2nd leaving plucky Waterhouse in a gallant 3rd place.
Jack Dearsley surprised himself with 4th place, Peter Keeping , 2018 Champion slid into 5th place following a nasty deep rough lost ball incident, but he wasn't bitter, and Joe Dearsley, who had a comparatively quiet tournament but enjoyed the quiet nights and late mornings was 6th. Tony Dearsley was certainly not disappointed with 8th position and very pleased with beating Allan into last place.
The mighty Bob Dearsley took the Peter Crowhurst Celebration Trophy for the 2nd year and summed up the weekends golf:
"You've all done very well now buggar off , I have cheese to prepare !"
Full classified results below: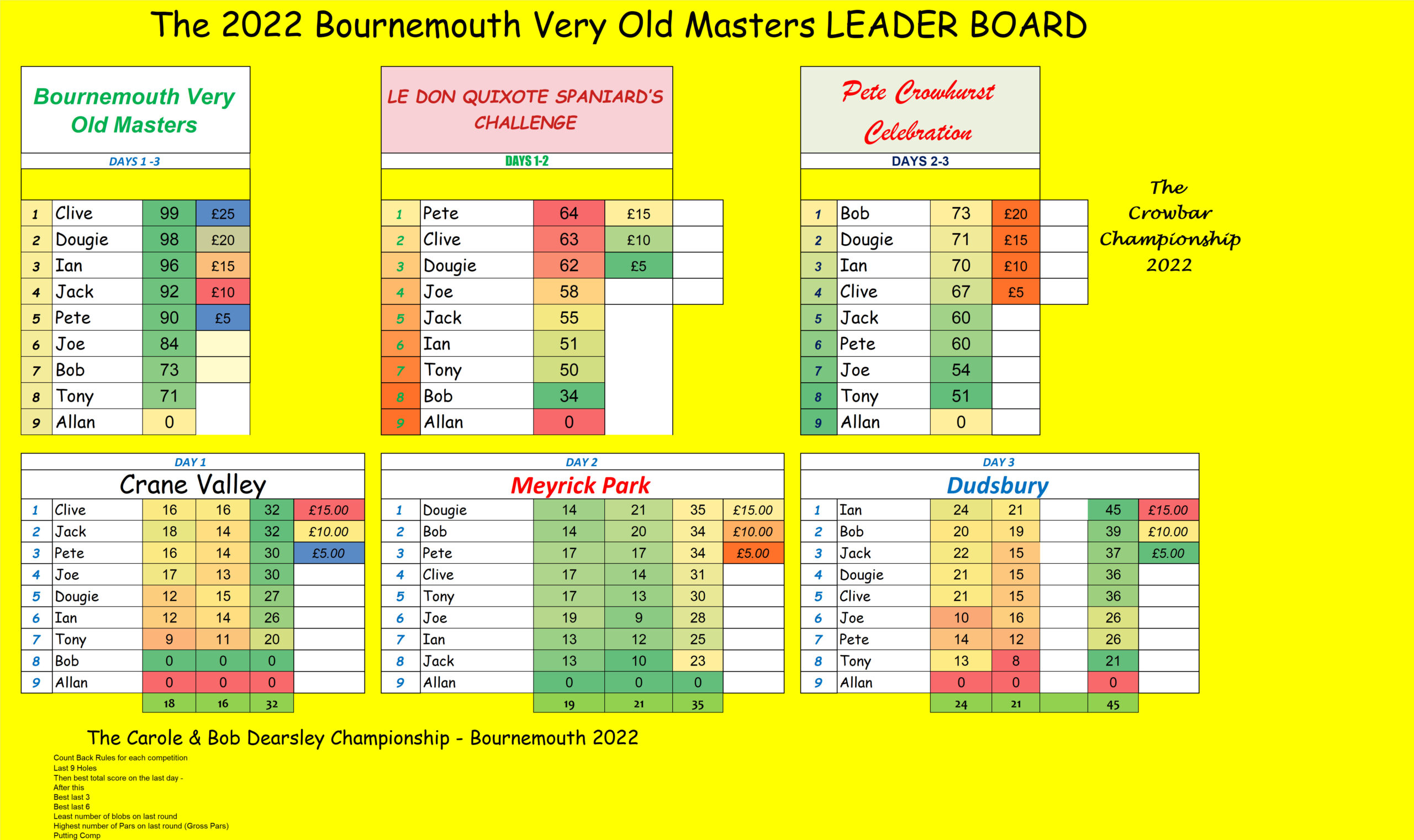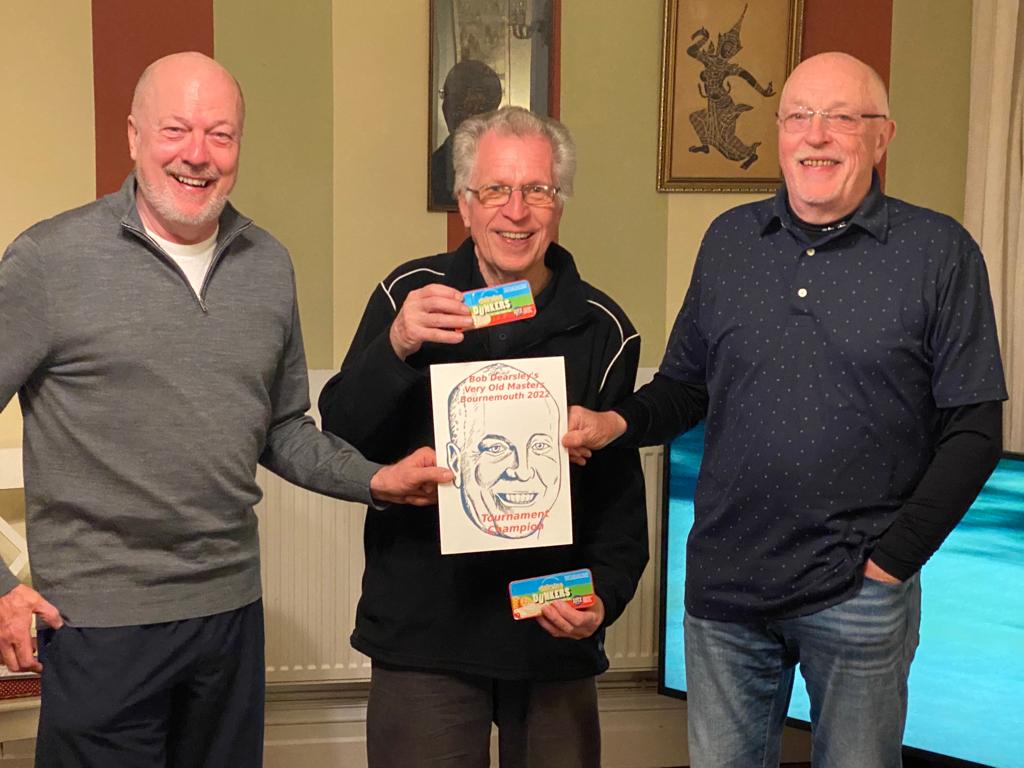 Dearsley, Dearsley and Dearsley receiving the coveted VOM's Trophy Facsimile and  traditional Dairylea Dunkers.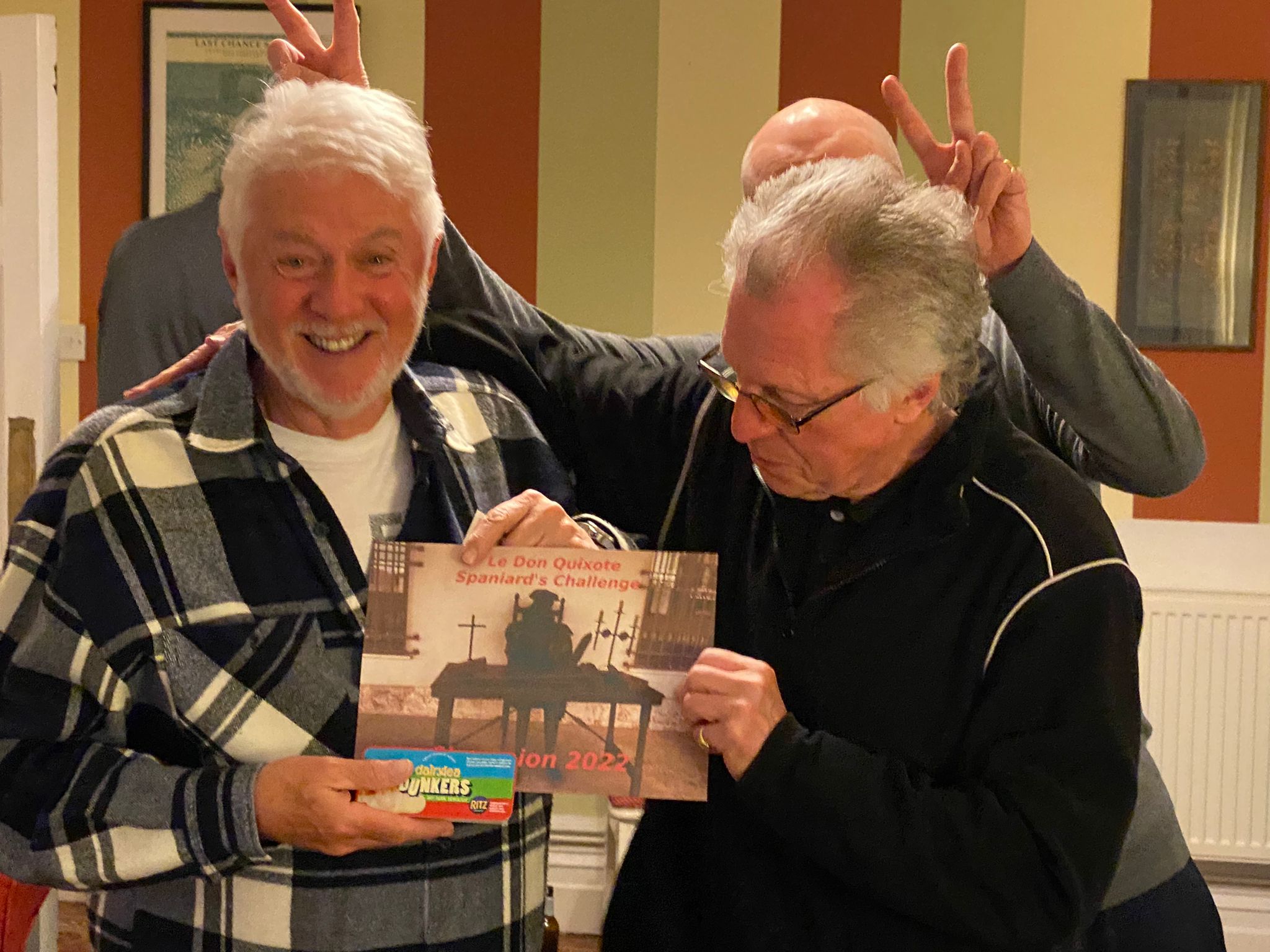 Peter , for it is he, receives the Don Quixote Spaniards Challenge Trophy from a Spanish chap.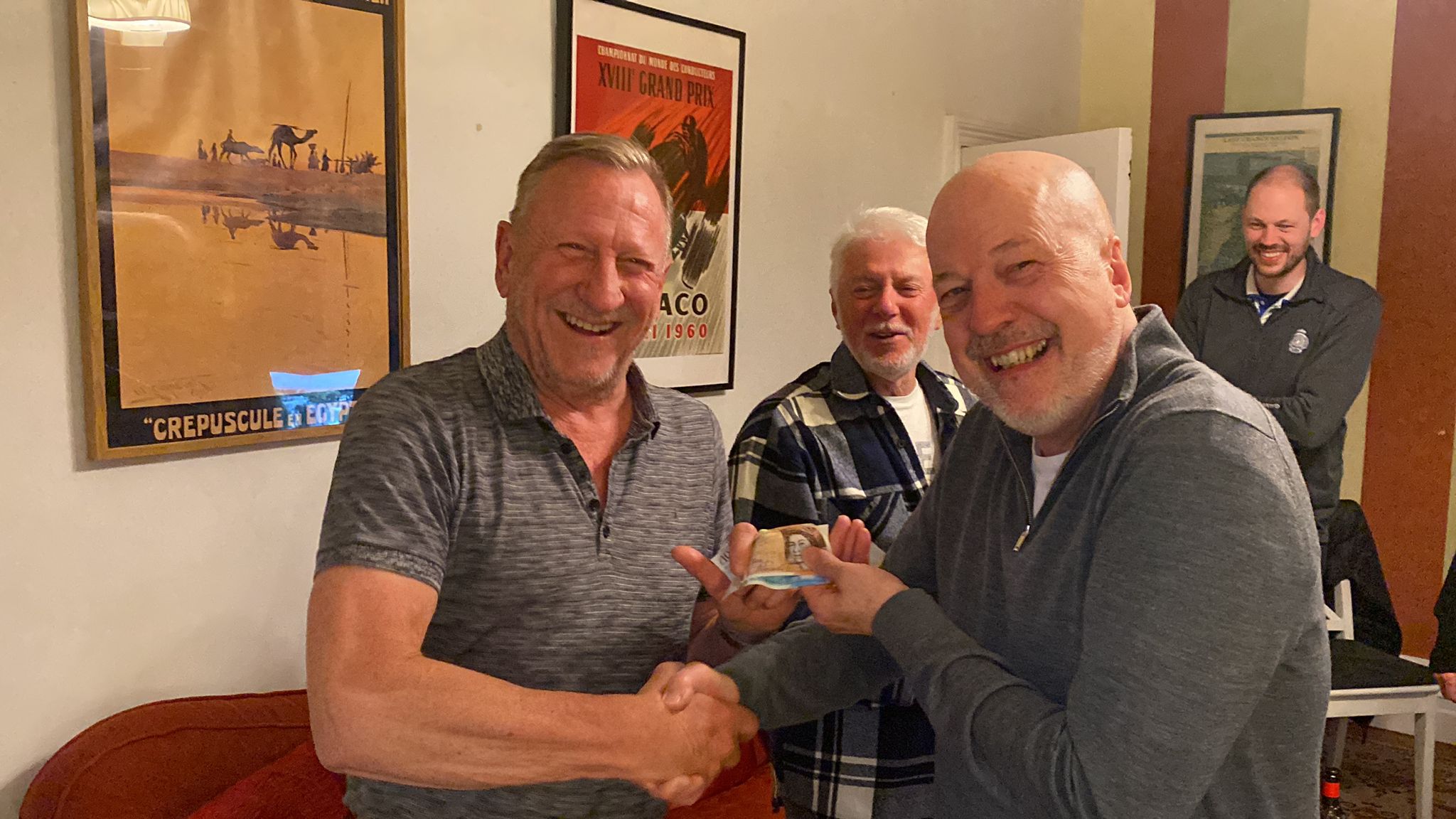 Bob Dearsley grasps the dosh for his PCC win completely ignoring the excellent photo of the Trophy , which did not travel this year.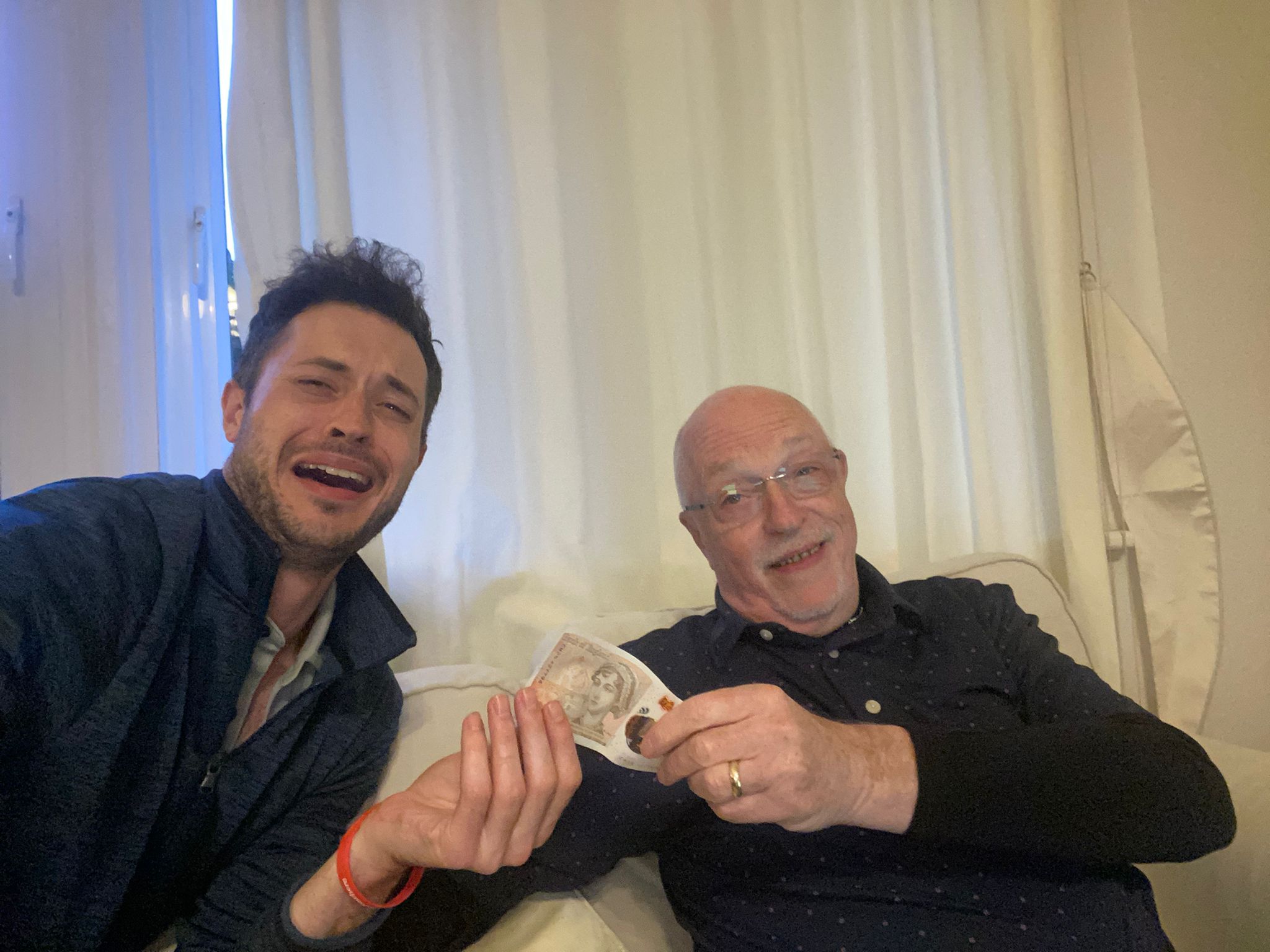 Jack Dearsley , some what disappointed with his 4th place cash prize. Although later his Dad did give him more money to keep him happy.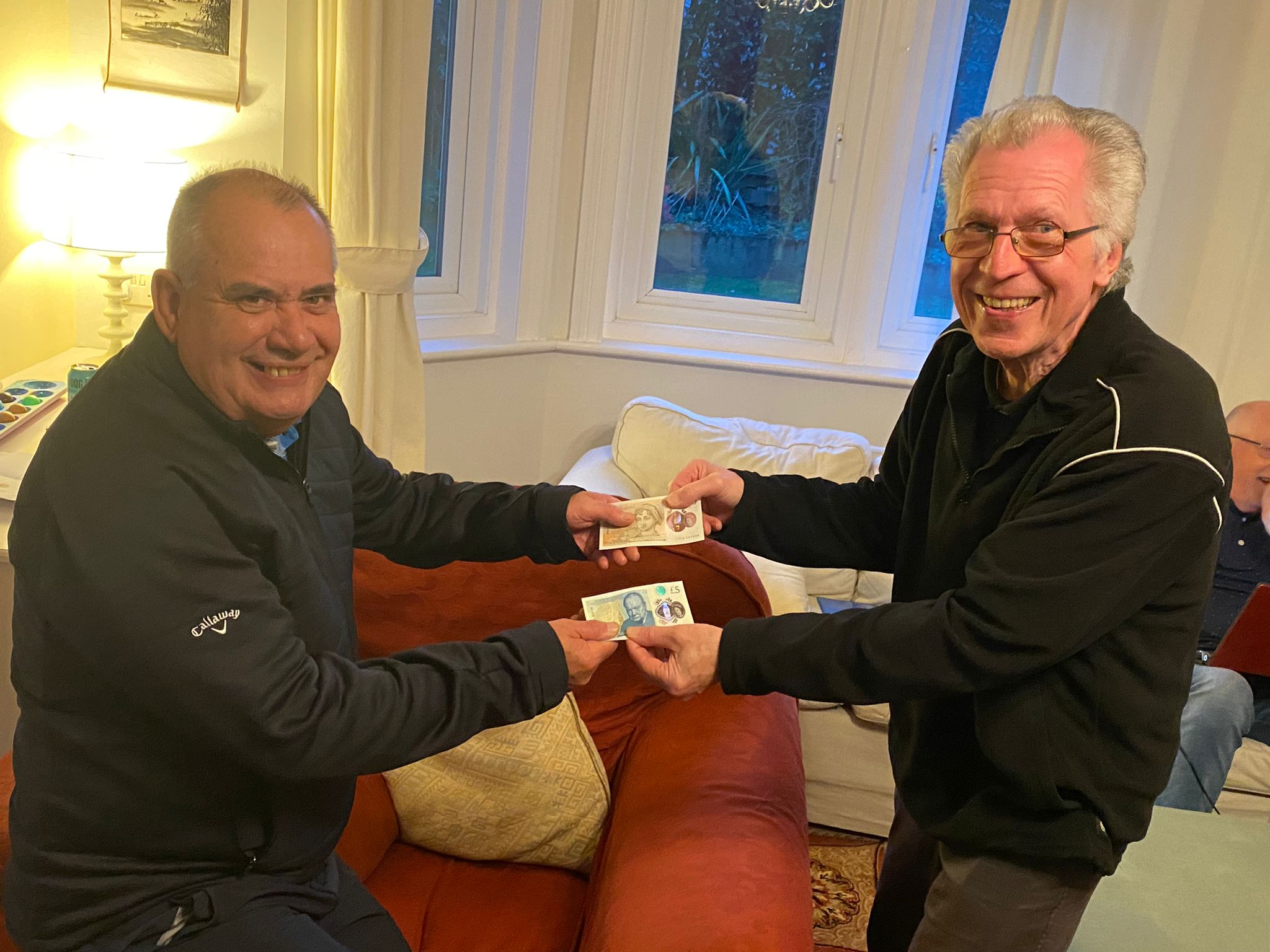 Dougie Ogilvy finding it difficult to get money away from Dearsleys in general.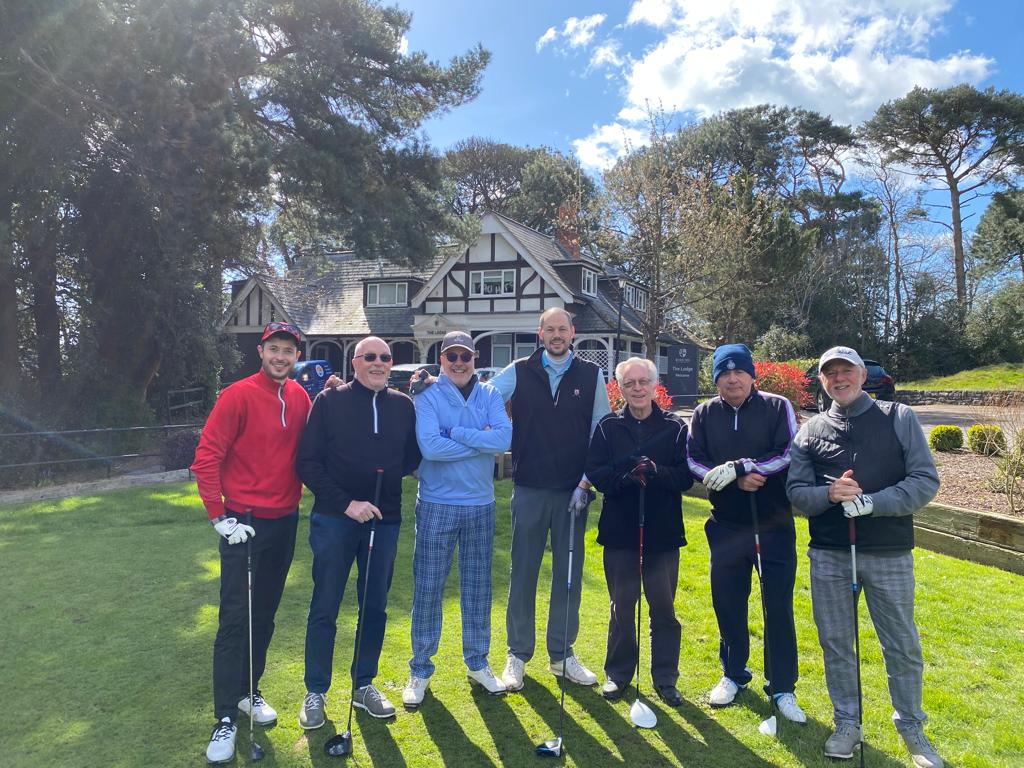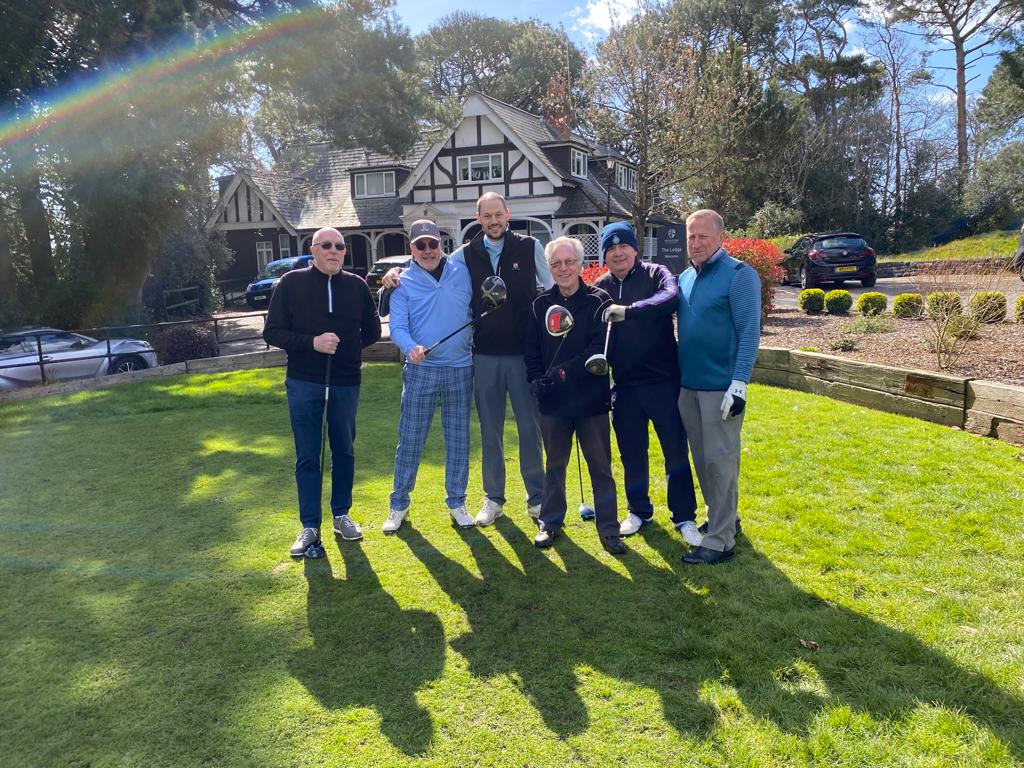 The Very Old Master 2023.  Date and Venue to be announced shortly.
Don't call me shorty !!