The Bournemouth Very Old Master 2018
All you need to know before you pack your kit and clubs and head to the coast.
Read this. And then take the survey. (that's read it ALL first then take the survey which will be e mailed to you shorty).
Part 1. Handicaps
Gentlemen,
The Bob Dearsley Very Old Masters looms in the not too distant future. Even now the hotel rooms are being prepared, the greens are being cut with precision and the wine, lying deep in the Bournemouth wine cellars, is preparing itself, as are we, to be drunk.
As your handicap secretary I am preparing myself for the normal round of
unwarranted abuse, trolling and violent behaviour

intelligent, fulfilling and open communication on the subject of Handicaps.
I can assure you that my magnificent victory in the inaugural event has been a major influence in my considerations for this year's starting handicaps and the daily handicap adjustments based on a newly devised system. My conclusions I hope will  make the competition tense, tight and not a wild runaway victory for one of the bald headed twats.
The handicap considerations focus around a number of factors:
a) We have a new player joining the tour.

b) No one wants me to win again.

c) eeerrr thats it…….
This being the case the following is proposed: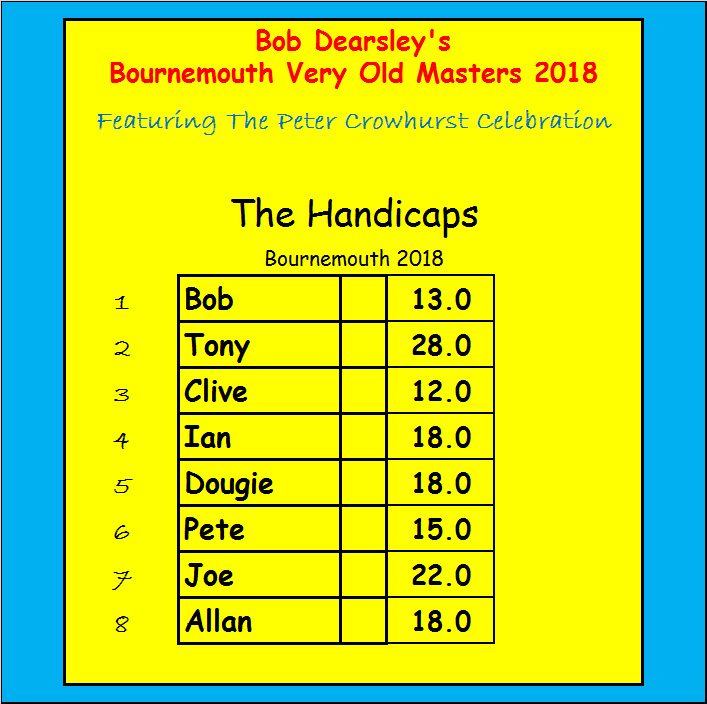 Now the daily handicap adjustments.
Bob Dearsley (The Old Master) and I have spent some considerable time in discussing how daily adjustments will work in 2018 and after many hours of deep discussion
we are going to do what Bob wants

we have reached an excellent consensus:
On a daily basis all players will have their handicaps adjusted against 36 points.
For every point below 36 points handicaps will be increased by 0.5 with NO upper limit.
If a player gets more than 36 points the handicap will be reduced by 0.5 for each point above 36 with NO limit.
36 points means No change.
The overall winner will have 2 shots reduced from their club handicap for the 2019 Very Old Masters.
More news to follow on competitions and entry fees.
Note: We here at Pretty Crappy Golf Tours Ltd will not tolerate abusive behaviour towards any members of our staff. Any unnecessary behavior will be met with the full force of the European Court of Human Rights or Pete's big mate or a 7 iron.
PART 2. A New Competition.
This year we will be introducing a new Betterball competition to bring the level of excitement during the Bournemouth Very Old Masters from
"Ok Then" to "Golly gosh".
This new competition will be
THE BOURNEMOUTH VERY OLD PEARS BETTERBALL CHALLENGE 2018.
What is "The Very Old Pears" ? you may ask, well read on………………
We play 3 rounds of golf and for each round everyone will have a betterball partner. At the end of each day the "Betterball" score will be calculated (because it will be far to complicated to do it as well as scoring our regular competitions).
The Pears Betterball scores will be calculated and the winning Pear for that day will score 4 points each, second Pear 3 points each and so on. Each day the Betterball partners change and the same scoring is repeated and the player with the most points wins, bloody simple really.
Example:
Day 1 Friday
Lets say Clive and Tony score 42 points betterball score and win, they get 4 points each. Ian and Dougie get 41 points and come second they get 3 points each.
Etc. etc
Day 2 Saturday
For example Bob and Joe get 39 points and win they get 4 points each . Pete and Tony get 37 points and come second , they get 3 points each.
These points are added to whatever they won on the Friday.
Day 3 Sunday.
New partners same idea
The individual with the most points wins.
Hey this is easy.
On the final day (Sunday) as we will be playing in championship order the Pears if selected before we start would most likely not be playing together. This being the case and to make the comp as fair as possible, the leader and the last man will be paired, and the second place man and the second from last placed man will be paired etc. etc. Which seems fair. (obviously these pairs won't play together as they will be in different 4 balls but we will calculate the betterball score at the end)
The scoring will be very close so count back will be based on the Individual's score on the Parkstone round (Back 9, 18 Holes and so on).
So there it is gentlemen.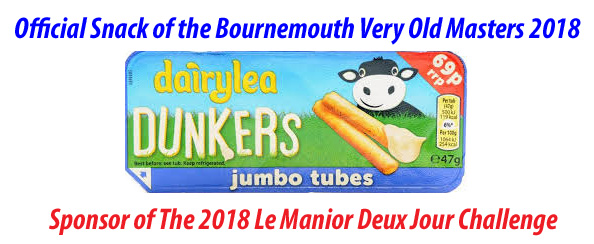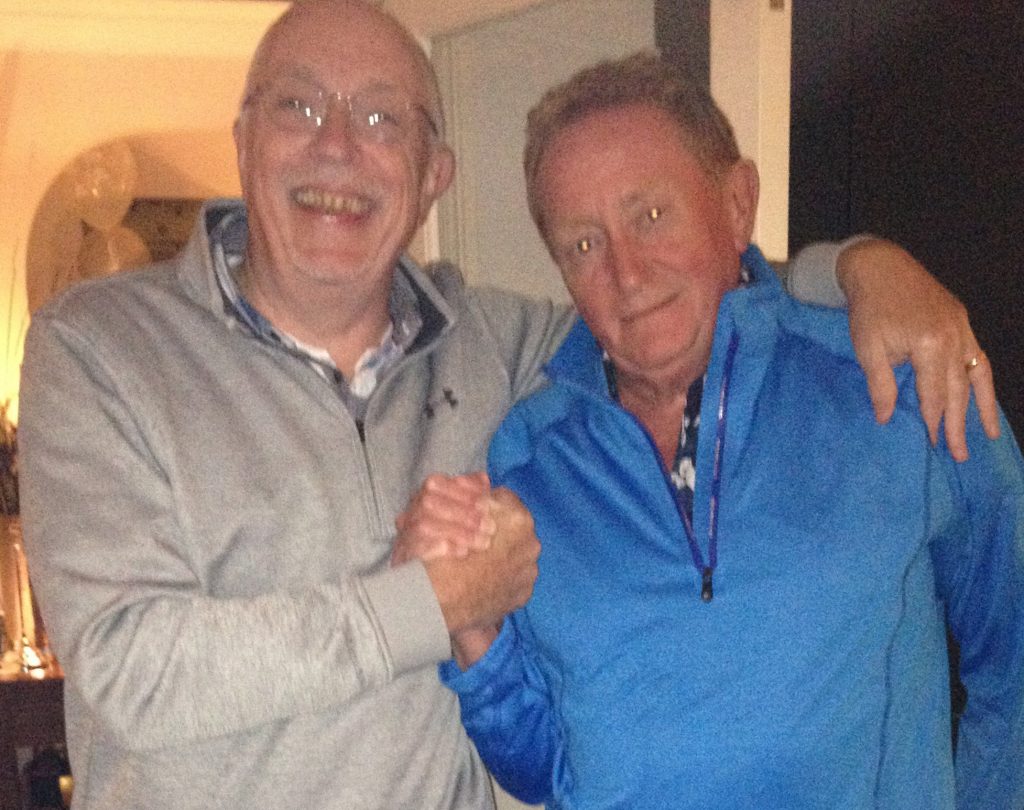 "Stop Press"  An impromptu picture of our Handicap Secretary welcoming Allan to another meeting of the Sobriety Society (Wimbledon Branch) "Stop Press"