2009 Champion MK Seve has surprisingly won the 2018 Portugal Tour coming from behind to win by a convincing 8 shots. MK was himself stunned by the victory:
"It was a difficult final day but I was superb, the others fell by the wayside as I strode to a deserved victory !"
Rumours have been rife that the Champion abstained from alcoholic intake and was tucked up in bed by 9.30 pm the night before the final round, MK responded to theses unsubstantiated charges:
"The gutter press are constantly on my case, my lawyers are on their case. The truth is I am now a very religious man and the particular evening in question was St Frivilous' Day and , as is the custom, I prayed a little and then in keeping with tradition snuck off to bed early. The other competitors had the same opportunity but chose to take the way of the Dark Lord, or Draft as we call him. As we often say within my Bible group "Drink not and thou shalt have some ideaeth of whateth is happening in the morning"
Second place man Hoppy Dearsley wept uncontrollably as he was lead away from the winners enclosure:
"It was all in the bag, all I had to do was play golf, even a little bit would have done, but it was not to be !

I am slightly disappointed but the $40,000 that MK slipped me before we tee'd off has helped, but don't mention that OK !"
In third place Nigel Carby was philosophical, which is unusual:
"Why do we do this ? The pain, the anguish, the comedy !"
Lord Chilly of Uzerlam crept into 4th place and newcomer Our Tone was 5th. 2015 champion Michael Rushal was 6th and Monty Zoo Maa 7th with a gallant Mikey B Draft bringing up the rear.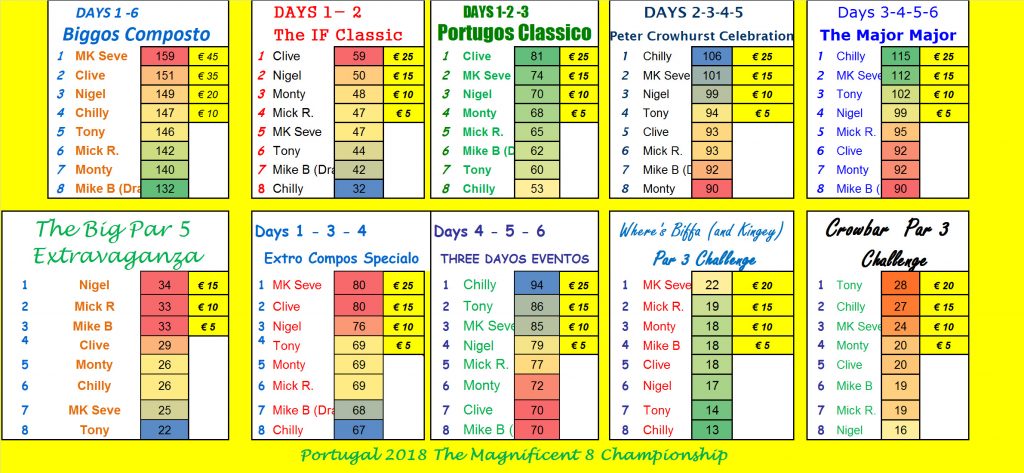 More results will follow,