Yes the sun shone down on twelve talented athletes as a star studded field took to the tee for the 2018 UK Peter Crowhurst Celebration Trophy held at Kibworth Golf Club and Spa Resort on Friday 27th July.
In temperatures in excess of very hot and a course set up to bamboozle the most canny of golfers battle raged throughout the afternoon.
Last years UK champion Stewart Amos fell apart in the car park whilst 2018 Portugal winner Lord Chilly peaked early with 21 points on the front 9. Only to fall at the 10th, 11th, 12th etc etc.
The mighty Max, who did hit the 12th green to win a nearest the pin prize, was on good form, sadly not at golf. Event sponsor MK Seve struggled in the heat and local favourite Kev Dunkley failed to fulfil early promise.
Ian (Boze Grills) Waterhouse scraped into 6th place on count back :
"I was put off by the fashionistas who constantly bothered me on the course." Ian commented whilst distributing free samples of his "Bridlington 2019" clothing range.
The Larges were in 4th and 5th and Hoppy Dearsley held a plucky 3rd place whilst Marky Hinds missed out on victory by 1 point.
In the end class showed through and Kevin Shorrocks' 21 point back 9 deservedly won him the massive cash prize and the coveted trophy.
"It was an unexpected victory" Kevin said to the expectorant crowd. "After a  disastrous start I had almost given up, but then I caught site of some of the other competitors as we started the back 9 and "my goodness!" I thought "look at the state of them". Which inspired my magnificent finish."

"and" he added "I am taking that Trophy home you tight bastard !!"
The Peter Crowhurst Celebration Trophy will be up for grabs again in Bridlington on 15th – 17th September 2018.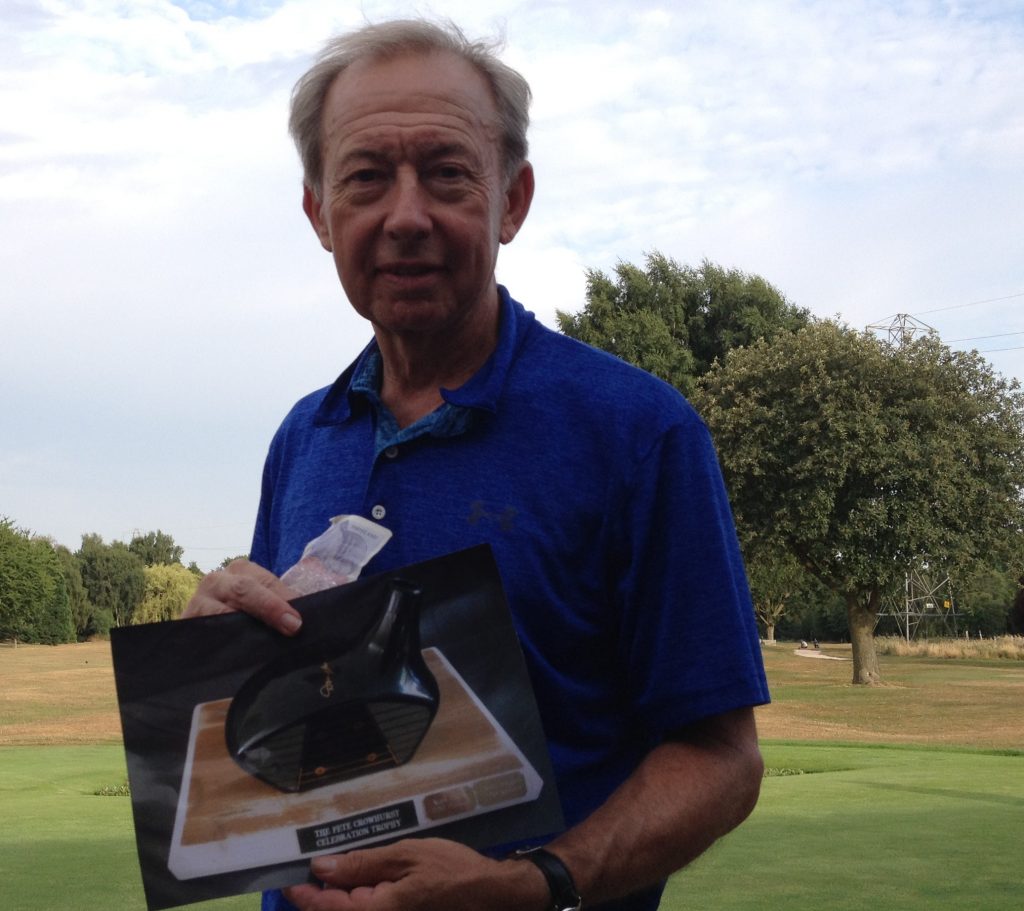 Champion Kevin Shorrocks seen here with a photograph of the Crowhurst Trophy. The actual Trophy mysteriously went missing soon after the presentation ceremony. The local police are looking into the incident (but not very enthusiastically).