20 Players, 54 holes of Golf, one buggy, 2 Imodium tablets, one missing key and the hot streets of Bridlington……………………."The Admiral's Cup 2021 !!!" ….What could possibly go wrong ?
They had travelled from all corners of the old peoples home country, men of many talents, sadly none of them golf, but they were keen !
The prize fund was bulging with wonga and to grasp the prize all that was needed was a cool calm head, a keen eye and a perfect golf swing.
This is where the problems started !
Day one was a comparatively early start at Bridlington Golf Club and the atmosphere was tense as Biffa Amos arrived with the sacred Buggy Transporter and the small, but emotional, unloading ceremony took place with blessings performed by the Right Reverend Simon Locock  and the Very Reverend Mark Hinds.
The traditional altercations concerning handicaps broke out, as expected, but after a calming word from Doctor Shorrocks the competition commenced and it was game on.
Mick R pilled in with a huge 39 points with young Danny Large 3 points off the lead and Tony "How do you expect me to play with this bloody shoulder and a ridiculous 4 shot deduction from last year" Bryan in hot pursuit.
An interesting and new ceremony took place after the front 9 when Archbishop Mickey Von Denzel demanded a change of transport at the half way stage and the local professional brought out a brand new buggy to satisfy his holiness' needs.
After a Fish & Chips Fest on Saturday night the 20 arrived at Flamborough Head refreshed and ready for the dark and mystic challenge of the day.
The unloading ceremony went well but controversy soon erupted as Lord Chilly declared that various parts of the course were out of bounds. This new learning came as some surprise to the locals and after a small fight the matter was put to bed.
After vociferous protesting about their absolutely ridiculously reduced handicaps Tony Bryan and Commander John Miles shot 37 and 36 points respectively and strangely were not available for comment in the bar after the round. Hoppy Dearsley and Mick R were also in the frame so that as the day closed the final days pairings were revealed.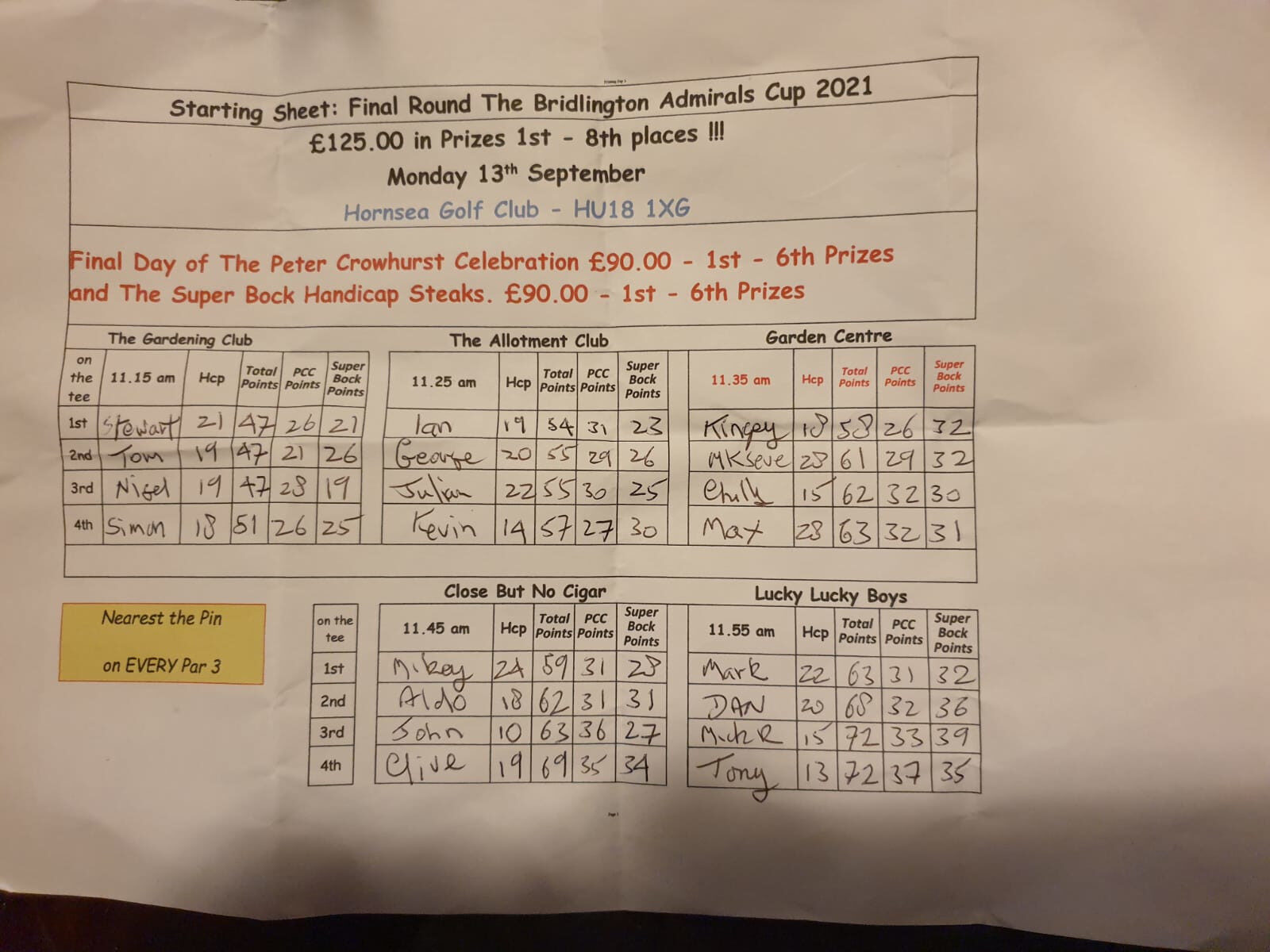 Sunday evening was quiet, apart from the Danny Large Key Hunting Challenge, which as a new sporting event didn't catch  the imaginations of many of the players who slunk off to beer , curry and obviously heavy keep fit and practice routines ready for the final round.
Day 3 and Hornsea Golf Club awaited the 20 as morning broke. Biffa brought forth the Holy Buggy and all was set as the round got under way.
Then disaster struck as MK Seve, CEO of SEVE Bet , altruistic icon and keen Guest House dweller, fell foul of an old war wound in his right (or could be left) shoulder.
As he went down gasps could be heard from the crowd. Well wishers applauded as he was carried from the course in obvious pain and anguish.
Later bulletins confirmed that he was conscious and receiving treatment, including some ointment for the rash.
It was a long day for the remaining contestants. 5 and a half hours of intense golf and standing around.
But they battled on through ponds, gorse bushes, trees, bunkers , chocy bars, bananas  and some very nice biscuits a landlord had left for them.
The scores were tight, George was on fire with 36 points, with Simon, Dan and Nigel rising to the challenge.
But no one could get close enough to the mighty Mick R who "Would Not Be Beat !!!"
It was a huge 3 days. The Trophy ceremony went well and was over in a record 13 minutes with Hoppy Dearsley's opening speech cut to less than 14 seconds (a record).
Full results and Credits below.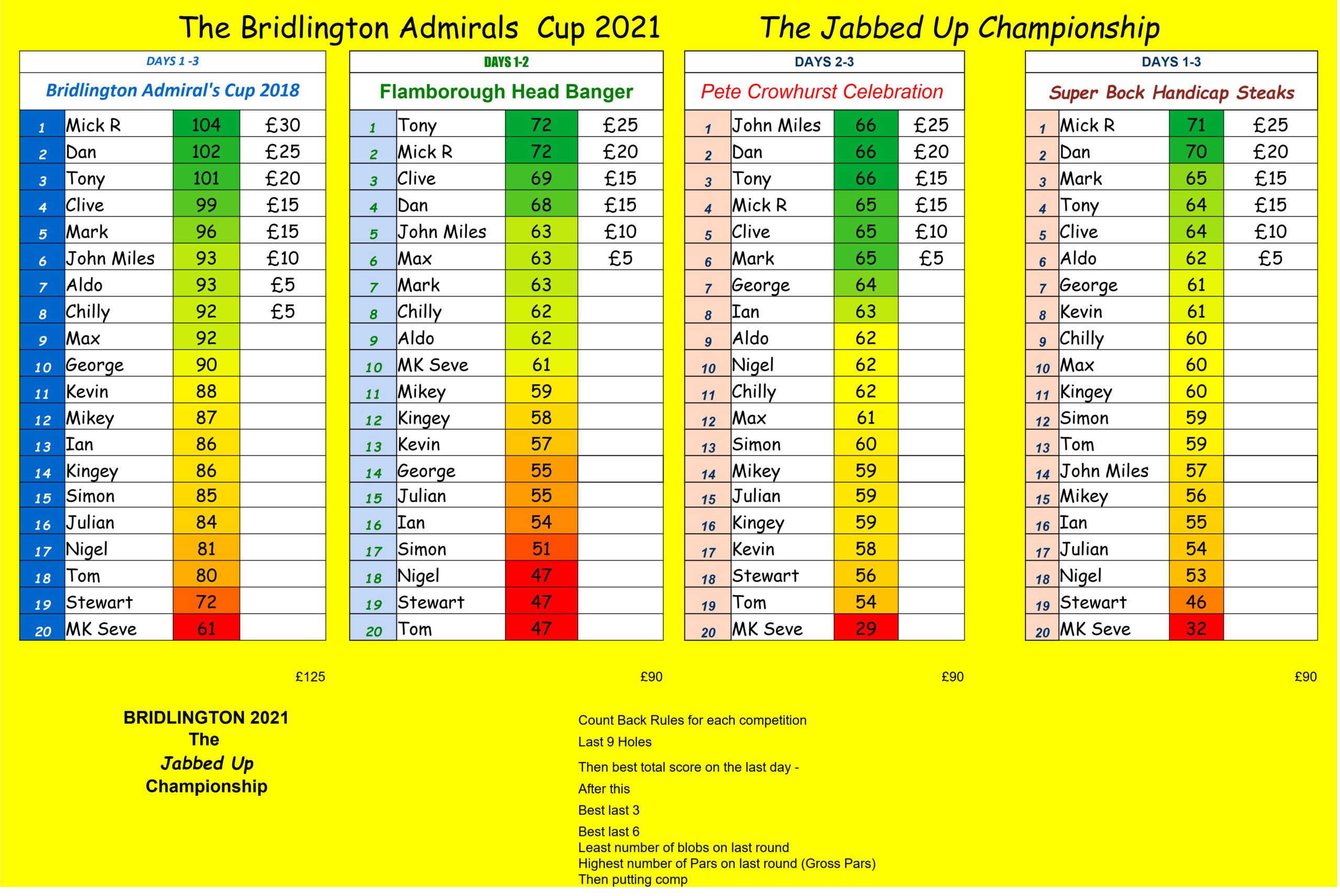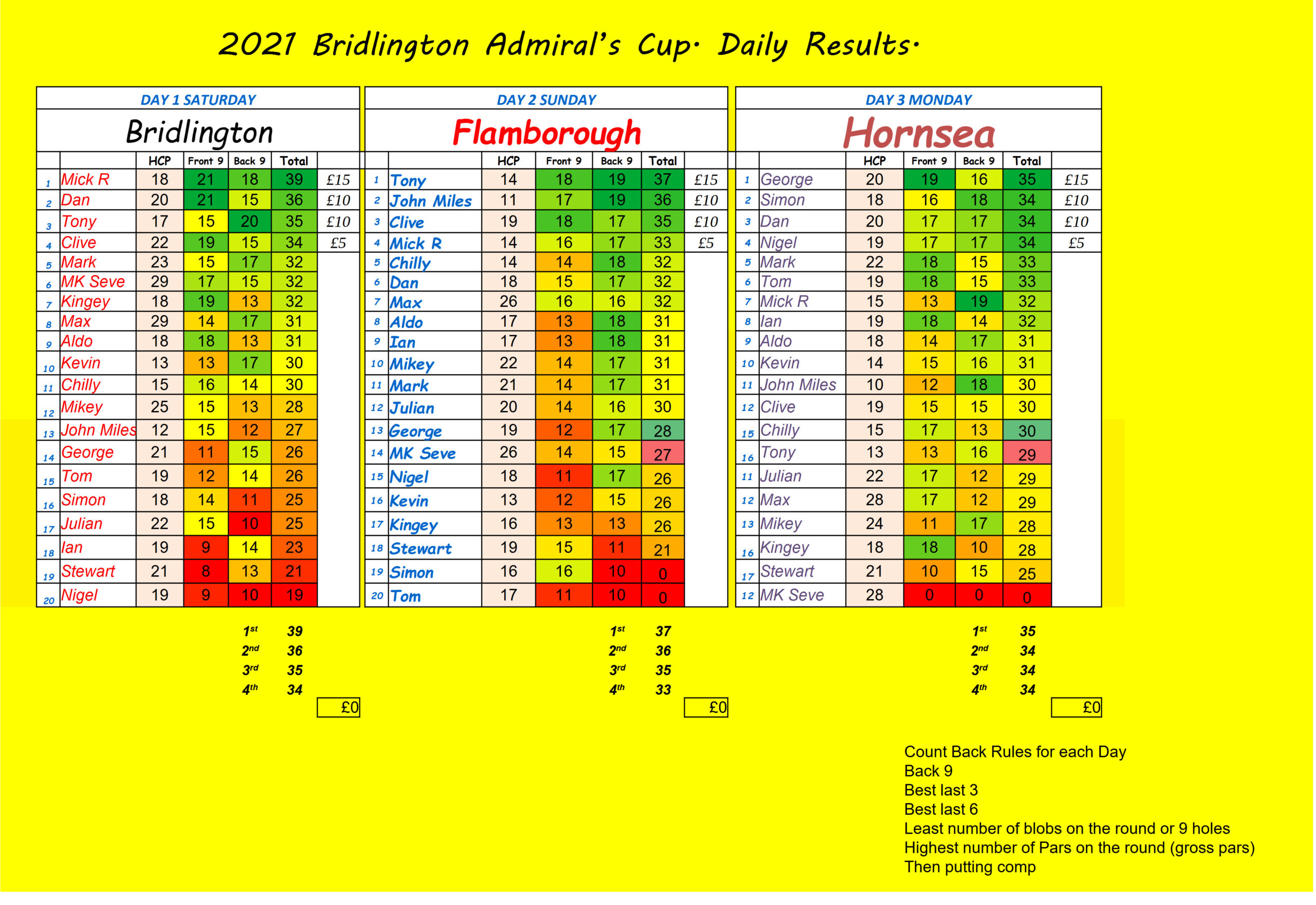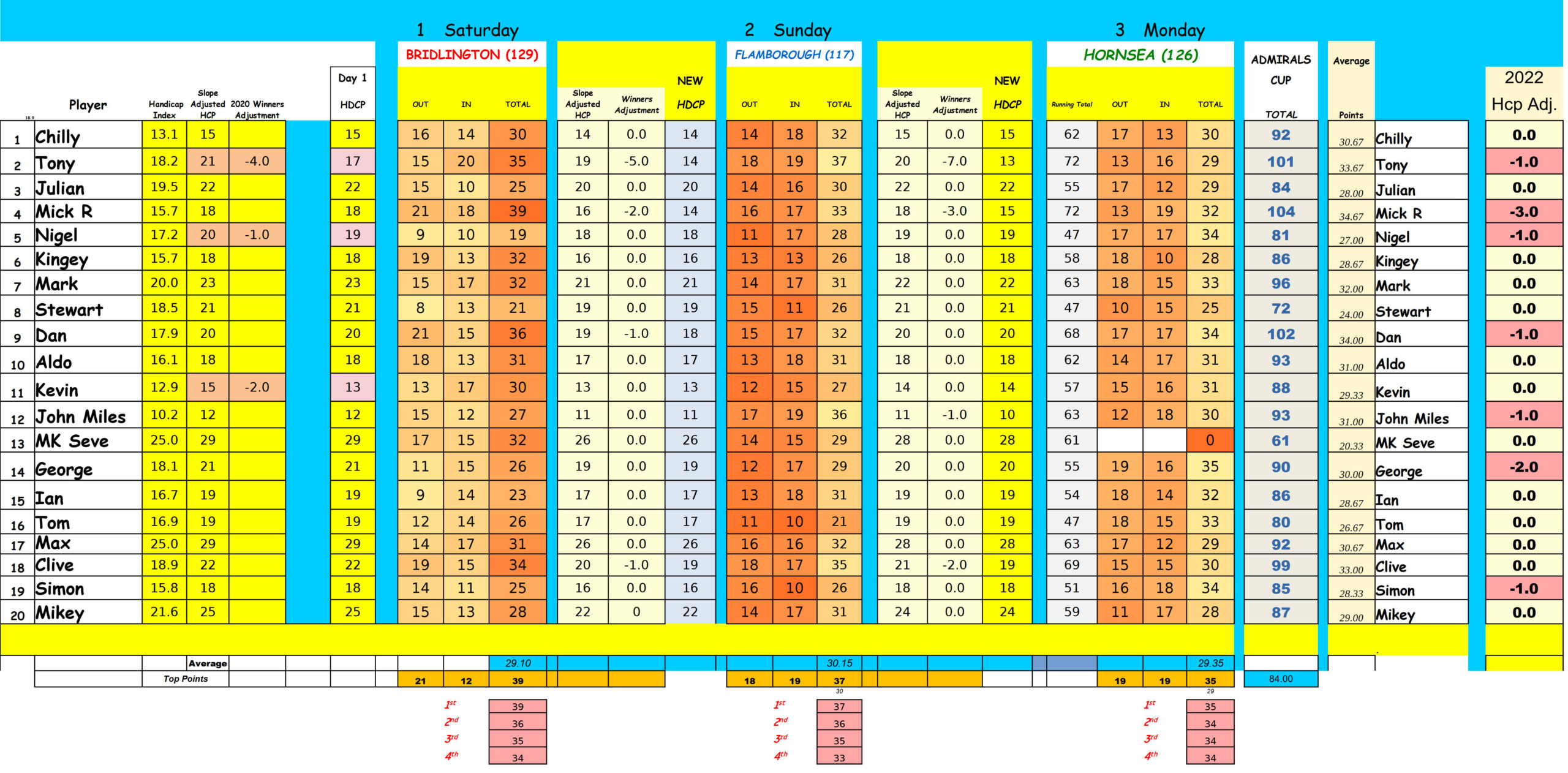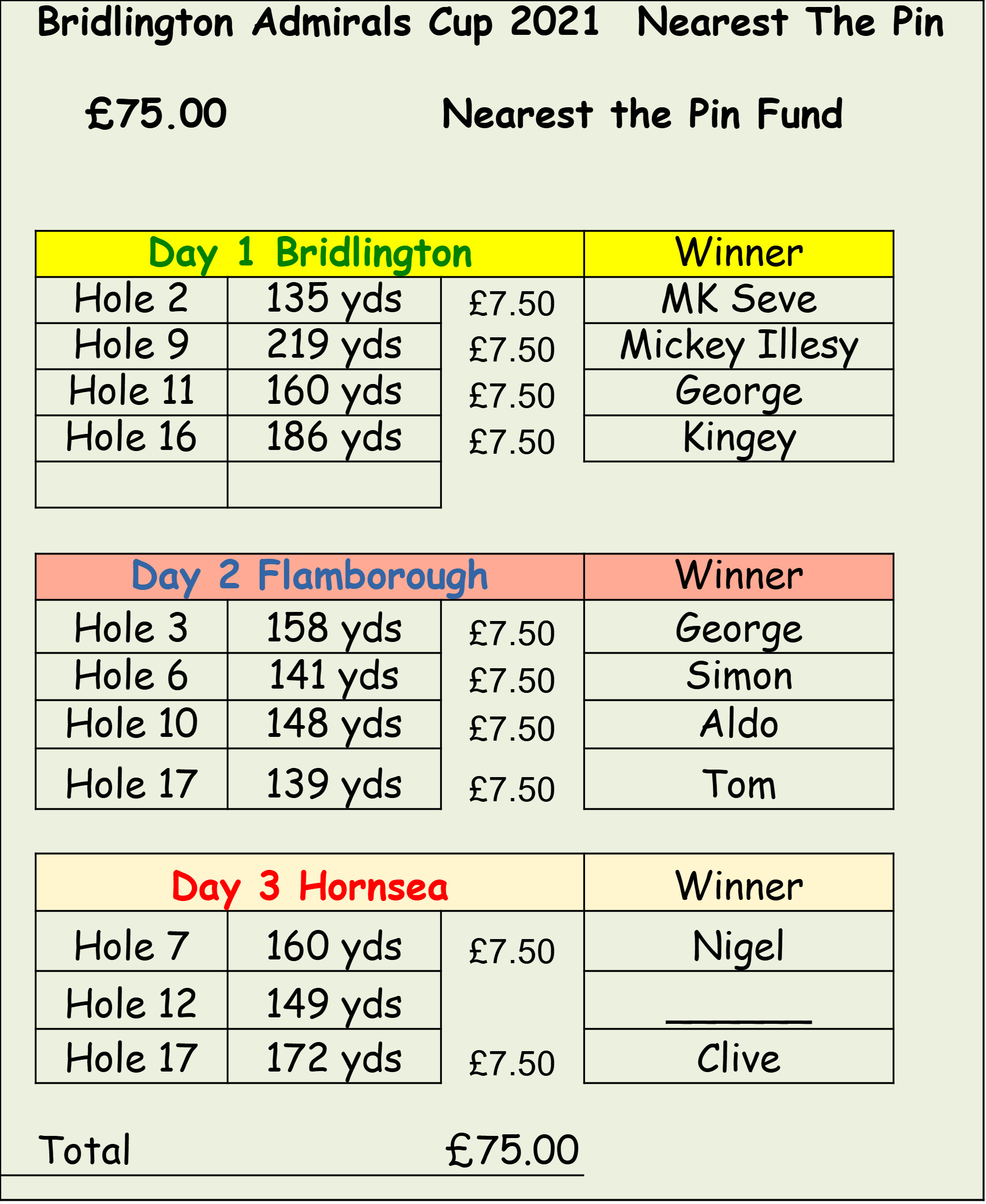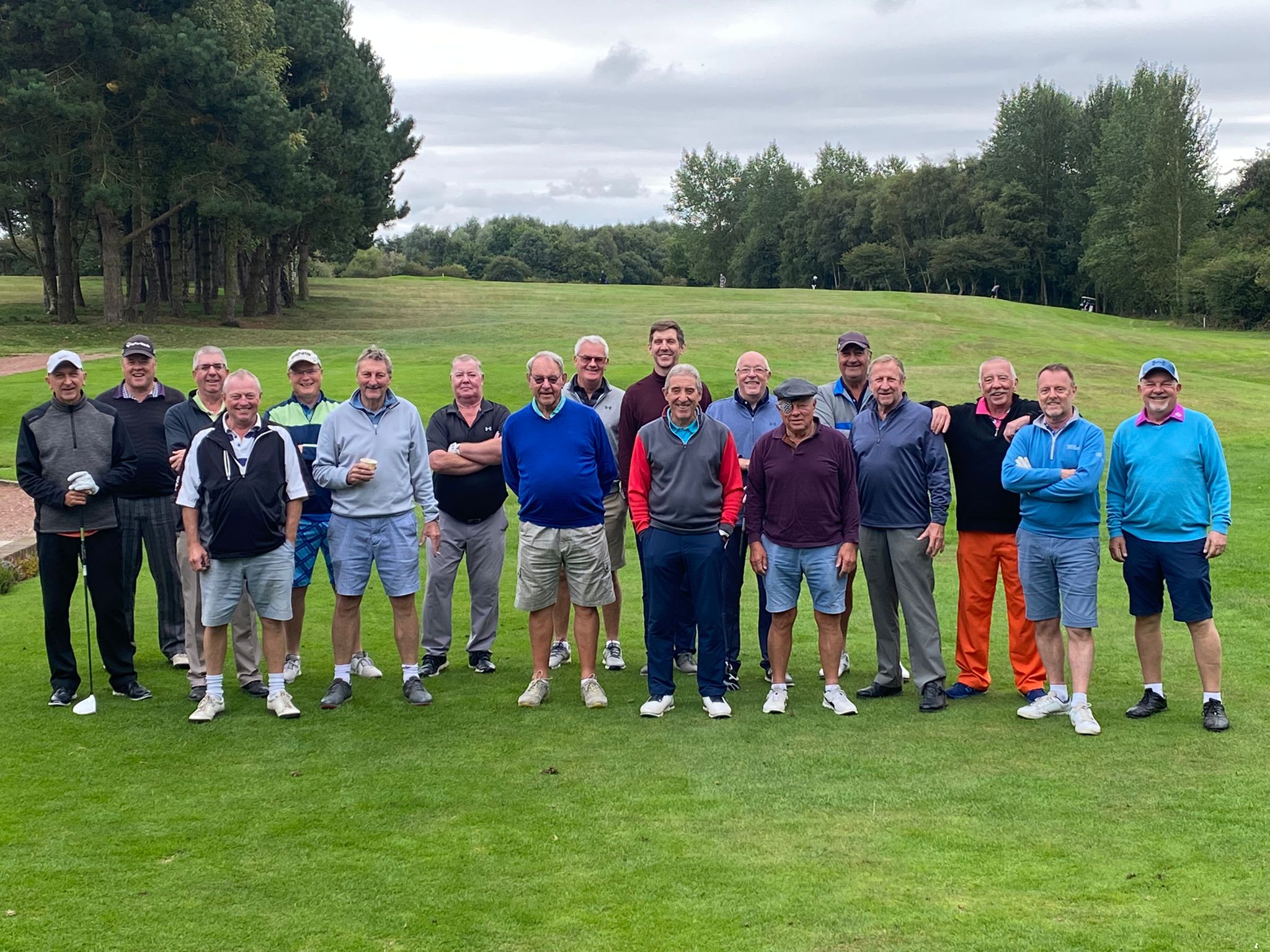 Never in the field of……………….   (Please note Big K Shorrocks will be Photoshopped in at a later date)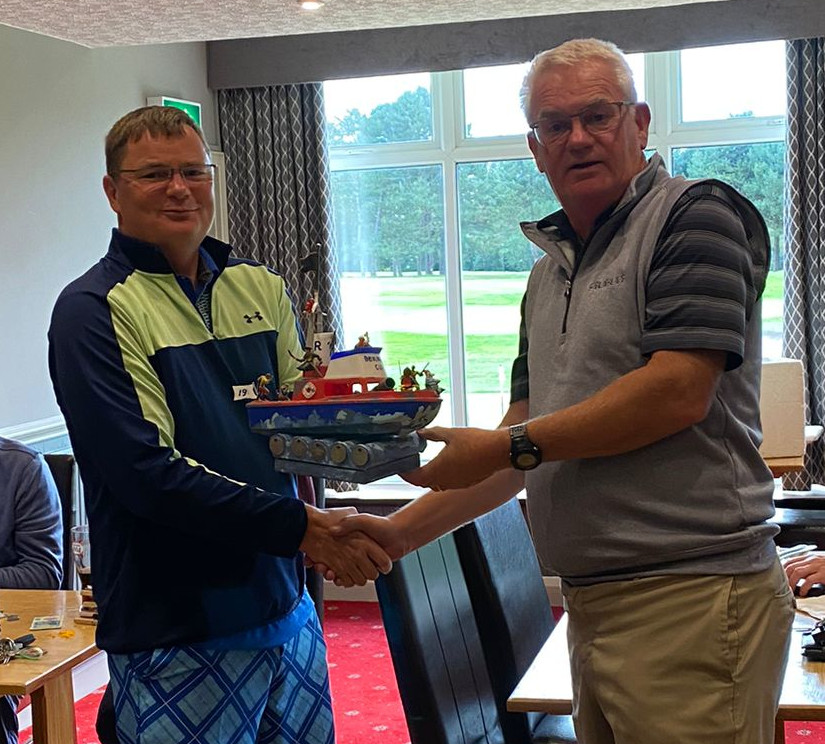 A slightly surprised Mick R receiving The Admiral's Cup Trophy from last years winner Tony (I never win anything Bryan) just before the Police arrived.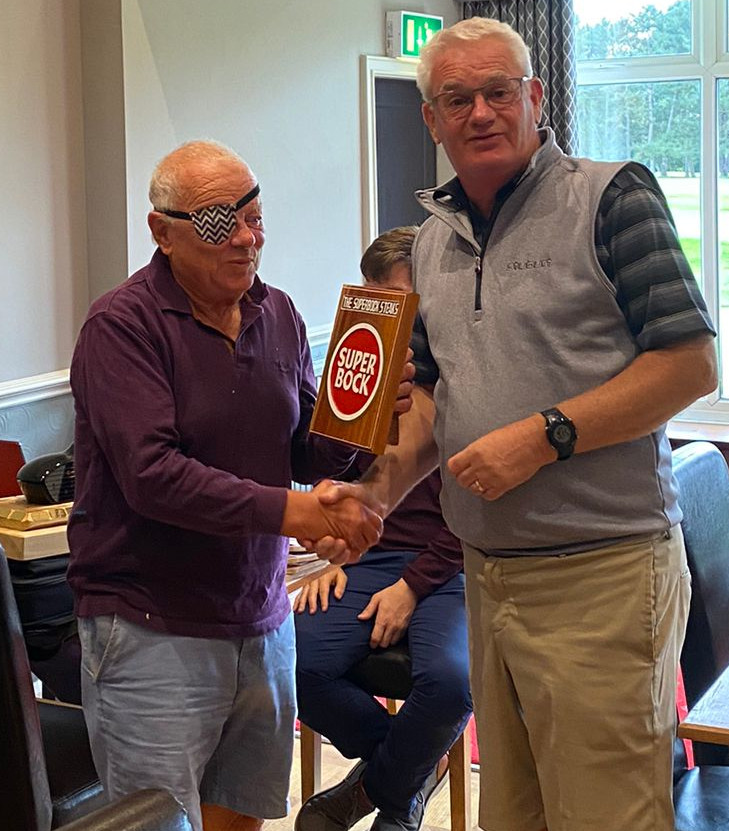 An even more surprised Mick R receiving the Super Bock Handicap Steaks Trophy from the summer 2021 winner Max Mc Donohough. Max was also surprised as he had no recollection of winning it.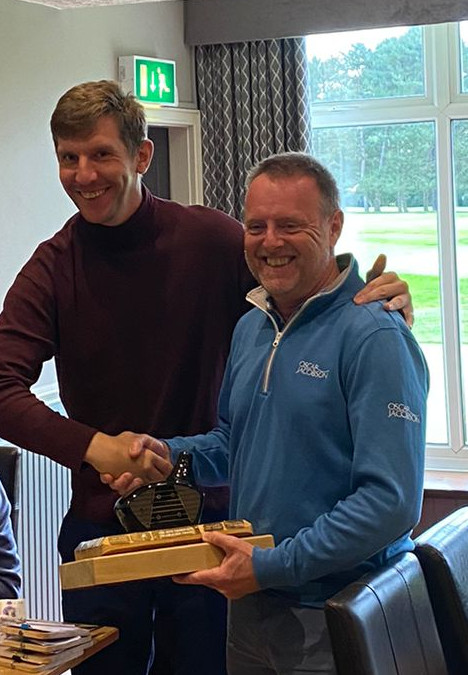 John Miles, probably more surprised than anyone , receiving the Peter Crowhurst Celebration Trophy from Dan The Key Man.
The trophy should have been presented by Uncle Nigel Carby but apparently he was busy in his new role as Team Cameraman.
Note: There should be a picture here of Big Tony receiving the Flamborough Head Banger Trophy but because it was a Decanter he didn't realise it was a Trophy and he thought he could  keep it.
In fact apparently he gave it to his Uncle as a Christmas present.
The authorities have been informed and it is expected to be back in play next year.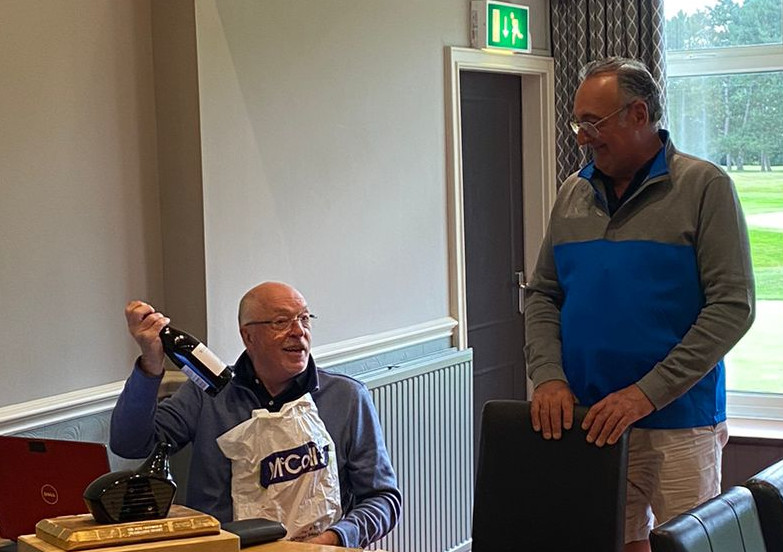 Disturbing proof that Dearsley can be bribed. Once again the authorities have been informed.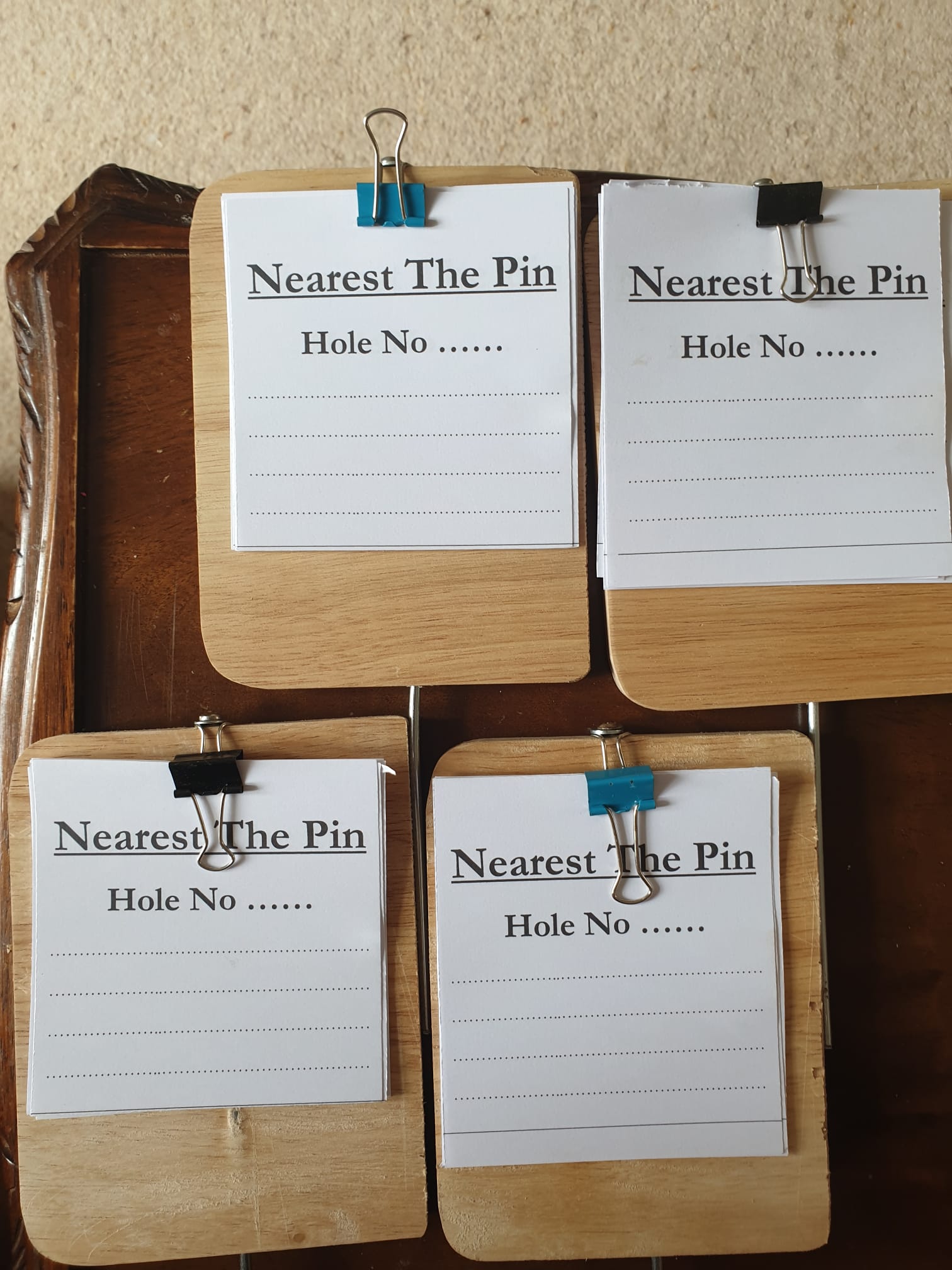 The illusive Nearest The Pin markers now available from Briffa Imports. Full details available from www.briffaimports.com

No Idea what these are. Rumour has it that this scripture was found amongst the Dead Sea Scrolls.
Full Credits for the Production below: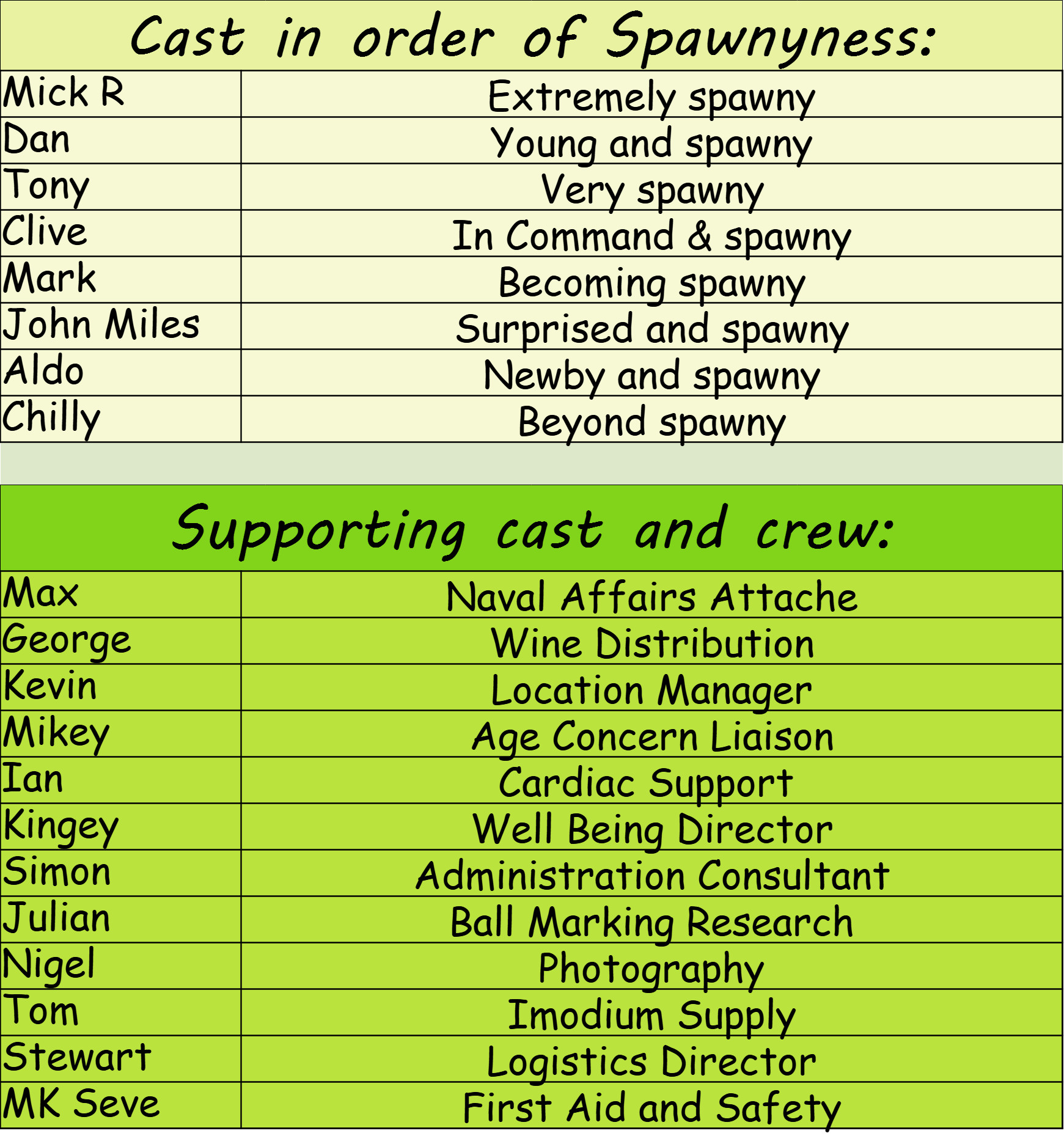 The Admiral's Cup 2022 ! At golf courses in Yorkshire in September next year. Watch this space for details.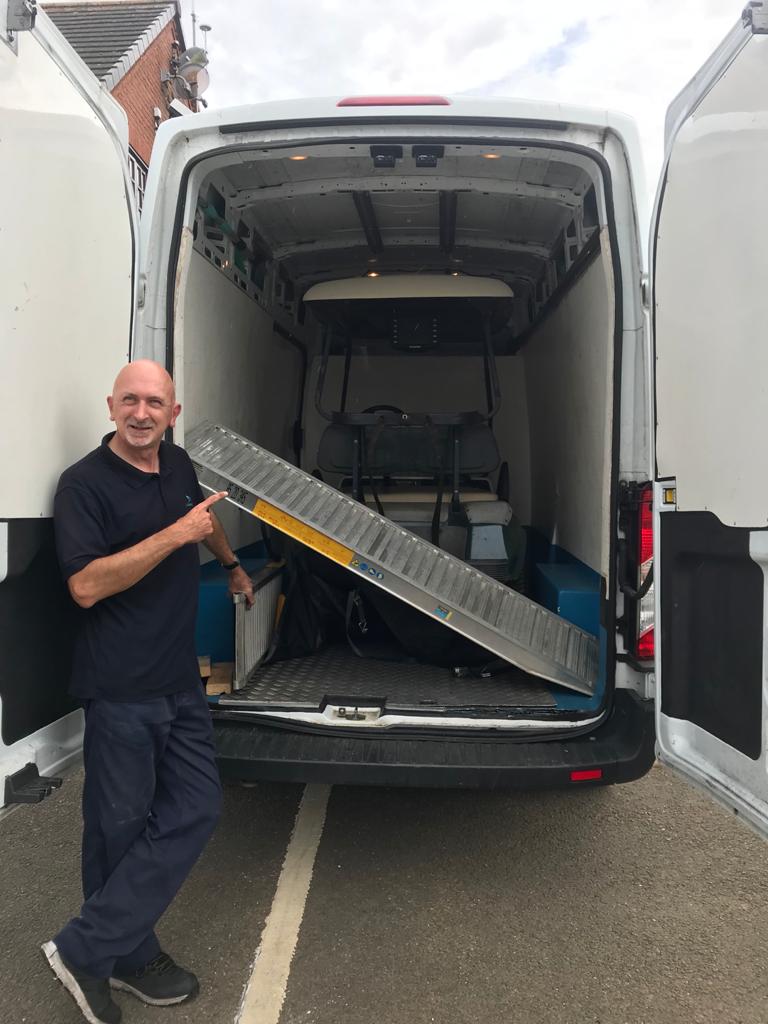 Lest We Forget .